A Twitter Parody Account Brilliantly Destroys the Ignorance of #WomenAgainstFeminism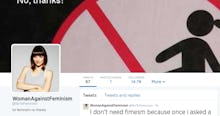 The news: A genius new satirical Twitter account, @NoToFeminism, has turned the Women Against Feminism movement on its head.
The first tweet came on Aug. 5, but the account has amassed more than 15,000 followers already.
Much like the satirical Tumblr Confused Cats Against Feminism, @NoToFeminism is inspired by the Women Against Feminism Tumblr, which shows women holding up signs that explain why they don't need feminism.
Image Credit: Women Against Feminism/Tumblr 
@NoToFeminism nails it: The account takes ridiculous and nonsensical statements and attacks them as if they were real feminist beliefs. It alludes to a common frustration with Women Against Feminism: The signs misrepresent and mangle what most feminists actually believe. They're based on tired, wrong and offensive tropes about feminism that polarize the community.
The Twitter account takes all of these absurd notions and puts them to shame.
Image Credit: Women Against Feminism/Tumblr 
One approach the account takes is deliberately misspelling "feminism" to further emphasize the ridiculousness of the whole concept. As the Daily Dot points out, it veers into Weird Twitter territory. It also pokes fun at the grammatical inconsistencies of some of the original WAF posts:
Image Credit: Women Against Feminism/Tumblr 
Women Against Feminism might induce head-shaking, disbelief and frustration, but @NoToFeminism is here to help with that.
It's a hilarious and spunky way to fight back, and it proves that humor really can be the best cure for ignorance.