MMA's Domestic Violence Problem Is Only Getting Worse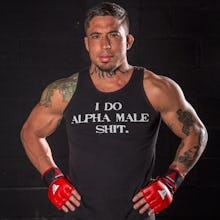 The mixed martial arts fighter War Machine is fleeing seven warrants issued for his arrest in the alleged beating of his ex-girlfriend. The 32-year-old's longtime partner Christy Mack released a statement and graphic photos Monday detailing accounts of how the welterweight, who legally changed his name from Jon Koppenhaver in 2008, showed up unannounced at her Las Vegas house early Friday morning and broke 18 bones around her eyes, fractured her rib, kicked her liver and sawed her hair, among other brutalities.
Mack, an adult film actress and nude model, said that she was naked when she eventually managed to run out and seek help from neighbors. For the attack involving Mack and her male friend early Friday, court records say War Machine is wanted on suspicion of domestic battery, strangulation, lewdness, assault and coercion. 
(Read Mack's full statement here.)
Apart from promising $10,000 for anyone who gives information about War Machine's whereabouts, Mack has also received public support from Dog the Bounty Hunter, who is apparently on the search and has added visibility to the gruesome crime. But War Machine, who has also featured in porn movies, continued to plead in a series of tweets that he is "cursed," "not a bad man" and was just trying to surprise Mack.
While MMA promoters Bellator immediately released War Machine from his contract, saying they have zero tolerance for any form of domestic violence, War Machine has found support from unexpected corners, such as former sports agent Ken Pavia.
Regardless of Friday's incident, War Machine has a documented history of assault, as exhaustively chronicled by Deadspin. The former Ultimate Fighting Championship star had attacked another former girlfriend at a 2009 party, and the following year had to serve jail time for a felony assault, among other arrests. Last year, he sent out an insensitive and distasteful tweet saying he raped Mack before the pair claimed it was only a joke.
This latest incident highlights what a horrific year it's been for athletes and domestic violence — nowhere worse than in the macho world of MMA. 
Just last week, graphic messages that former UFC featherweight Josh Grispi sent to his wife came to light after he was arrested on domestic violence charges. (Grispi wrote that he would "enjoy choking" her to death.) In April, Will Chope was released from the UFC after it was revealed his discharge from Air Force was over domestic violence. In February, UFC light heavyweight Thiago Silva's contract was also terminated after he showed up with a gun and threatened to open fire at an MMA academy where his wife was training. 
MMA's displays of hypermasculinity and the brazen way in which these men have committed such brutal crimes is hard to ignore, but domestic violence abounds in other sports too, and athletes of many levels seem to get off easy. As ESPNW's Jane McManus wrote, pro leagues could do a lot of good by adopting domestic violence as their next big cause.
Bellator president Scott Coker said the promotion was dissolving its contract with War Machine, effective immediately. But the "depressingly regular occurrence" of domestic violence in mixed martial arts is cause for concern as the sport redoubles its efforts to break into the cultural mainstream.