Modern R&B Didn't Start With Beyoncé. It Started With Whitney Houston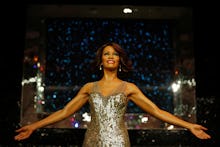 It's hard to imagine the world before Beyoncé. 
Between her fierceness, legs of Aphrodite and powerful belt, Bey is arguably the most compelling pop star of our time. But a short few decades ago, there was another artist at the helm of pop music. That artist was Whitney Houston. And she paved the way for Beyoncé's domination, and for much of modern pop. 
Houston dominated the 1980s. She scored the best-selling song by a female artist of all time with her "I Will Always Love You," and her hits like "How Will I Know?" and "I Wanna Dance With Somebody" showed an incredible range across her singing, acting and dancing.
She lives among today's community of singers merging pop and R&B. Just a couple months ago, new soul star Sam Smith went mega-viral with his cover of her joyous "How Will I Know." It is a beautiful cover, but more than anything, it shows deference to Houston, whom the best-selling singer considers one of his idols. Smith is especially struck by Houston's voice and ability to sing up and down octaves on one syllable.
But a truly unique characteristic of Houston is her ability to tell a story through song. Senior Billboard R&B/hip-hop editor Gail Mitchell told MTV, "Because her voice had so much emotion and she could give a song a feeling that anyone could relate to, Houston continues to be the barometer by which people measure a singer who can tap into something deeper."
Arguably, though, one of her biggest contributions to modern R&B didn't have to do with singing at all.
In the 1980s, few black women were as prominent as she was, let alone able to transition so smoothly between music, modeling and acting. Producer/songwriter Narada Michael Walden, who helped Houston produce some of her biggest hits, told MTV, "Before Whitney, you were not used to seeing black females on the top of the charts consistently, having their own video on heavy rotation on MTV. For her to be ringing that bell every time was a major occurrence, and all of her achievements proved a wonderful gateway for the stars of today."
Beyoncé embodies how popular that model has become — she is not only a musician, but has also acted in movies, such as Austin Powers: Goldmember, Cadillac Records and the Oscar-winning Dreamgirls, and even had her own clothing line at H&M. Nicki Minaj has also acted in films and released her own perfume. Houston proved that female musicians (and more specifically, black female musicians) could be triple or even quadruple threats. Now that's a given for modern musicians.
Part of Houston's multifaceted pop presentation was her perfection of a "fierce" and "strong" image, perhaps her most consciously imitated quality. That's why Beyoncé is "Queen Bey," why Minaj is the half-comical, half-feared "Barbie/Roman" and why young breakout singers like Ariana Grande (who similarly idolizes Houston) are singing about how they don't need a man to feel fulfilled. Houston was the iconic strong, independent women that was a rare find in the public eye.
That's why, after Houston's death, Beyoncé said her admiration for Houston was not only for her voice, but chiefly for her personality. Beyoncé told Billboard, "I remember meeting Whitney for the first time when I was 15. She was the ultimate legend. The ultimate woman. Not only was she confident, poised, stunningly beautiful and intelligent, but she was sincere and kind. She took the time to make everyone feel like they were very important to her. I, like every singer, always wanted to be just like her."
Beyoncé continued, "She is our queen and she opened doors and provided a blueprint for all of us."