100,000 Reasons Benedict Cumberbatch Is the Best Thing to Happen to Shakespeare in Years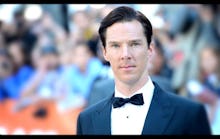 Want to know the secret to selling theater tickets? Appeal to the Tumblr crowds. That's how a new production of Hamlet at London's Barbican Theatre managed to attract more than 20,000 people queuing online to buy tickets last week and sell 100,000 tickets within minutes Tuesday morning. The big draw? Benedict Cumberbatch.
Cumberbatch is an Internet monolith. Thanks to his movie roles and the cultlike popularity of Sherlock, for some he is a full-blown obsession. He was tweeted about more 700,000 times in 2013, according to Vulture, and the "Cumberbitches" subreddit is always alive with activity. His dedicated fan base is likely to thank for this level of ticket sales.
Playing Hamlet is a natural career move for Cumberbatch, who seems to be the only young English actor to have not taken the part for a spin yet. Ben Whishaw (Skyfall, The Hour), Jude Law (Watson to Robert Downey Jr.'s Holmes) and David Tennant (Dr. Who) have all played the melancholy Dane over the last few years, and it was Tennant's production that best proved where to find their target audiences: Tumblr and the fandoms within it.
Coincidentally (or perhaps not), the online fan bases for Tennant and Cumberbatch both grew thanks to shows headed by writer and producer Steven Moffat (Dr. Who and Sherlock respectively). Tennant's turn as the prince of Denmark at the Royal Shakespeare Company came at the height of his Whovian stardom, and ticket sales were incredible (it also helped that he was damn good). The run sold out in a single day; websites crashed and a black market for seats arose. Theater has always relied on big name stars to help draw ticket sales, but even stunt casting and celebrity names have not really helped London's recent seasons: in the last few years box office grosses in the U.K. have been on the decline, according to figures the Telegraph found in Arts Council England reports.
A growing number of actors have moved from convention panels to iambic pentameter, including Thor and Avengers breakout Tom Hiddleston, who took a starring turn in Coriolanus earlier this year at the Donmar. That production also sold incredibly well, extending its run and offering tickets only by lottery just to give people a chance into the production. Hiddleston, like Cumberbatch, Tennant, Downton Abbey's Michelle Dockery and many other British fan favorites, is a classically trained actor, and often relishes the chance to return to the stage, and to Shakespeare. He's also played leading roles in Othello, Cymbeline and Henry V. Martin Freeman (Watson to Cumberbatch's onscreen Holmes) also recently took on Shakespeare's Richard III, and drew such devoted fans that traditionalist theater audiences balked at the influx of excited clapping.
Cumberbatch is a logical fit for the role from a marketing perspective. It also makes incredible artistic sense: Cumberbatch has carved out a career playing overthinking intellects and whistleblowers like Alan Turing, Julian Assange and, in another well-received stage performance, Victor Frankenstein. Who better to tackle next than a man who spouts soliloquies on the Snowden-esque secrets he discovers about his uncle's regime at Elsinore? 
The excitement about Cumberbatch as Hamlet is most visible on Tumblr, where fans are caps-locking their joy, sharing screenshots of their ticket numbers and generally enthusing like mad together. Fans from across the globe are also helping each other organize meet-ups for the show.
It may sound cynical or reductive to say that, just by themselves, this particular group of fans could help sell out one of the world's best known plays in one of England's best known venues. It's impossible to ever know for sure who is buying those tickets, but it's worth noting that this demographic has proven its power before.
These audiences of obsessive, intelligent and culturally aware fans have transformed conventions like last month's San Diego Comic-Con into huge pop culture happenings. Author John Green owes them the success of The Fault in Our Stars. These audiences keep the fire of Harry Potter fanaticism alive so that J.K. Rowling keeps providing us with snippets of fiction and whole new movies. They are an articulate and highly engaged core following, and they are why stage companies are choosing the Cumberbatches or the Hiddlestons to bring audiences back to live theater.
For proof, note how two recent high-profile Hamlets in London — Rory Kinnear (Penny Dreadful, Skyfall) at the National Theatre and Michael Sheen (Twilight, 30 Rock) at the Young Vic — didn't manage this kind of buzz. Then again, neither of them are in anything by Marvel, Moffat or Rowling.
h/t Mashable