Amazon's New Show is an Exciting Step Forward for LGBT Representation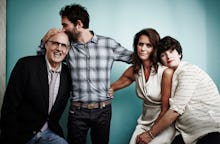 The word "transgender" is not uttered once in the pilot of the new dramatic comedy Transparent, an Amazon Original Series from Jill Soloway (Six Feet Under, United States of Tara). But it's the word that's bound to be on every character's lips when Amazon binge releases the remaining episodes of the first season Friday.
At the end of the pilot, which Amazon Prime members can watch for free, an older transgender woman named Maura (Jeffrey Tambor, Arrested Development), still known to her family as Mort, unwittingly comes out to her eldest daughter (Amy Landecker) after an unsuccessful attempt at coming out to her other children (Gaby Hoffmann and Jay Duplass) during a family dinner. The series promises to track this fractured Los Angeles family as they learn about Maura's journey or, as Soloway puts it in an interview with Variety, as their "wounded father [is] replaced by a blossoming femininity." 
If reading the words "transgender" and "comedy" in the same sentence makes you nervous, it's probably for good reason. Transgender people, particularly transgender women, have long been used as vehicles for cheap laughs in shows like 30 Rock, Family Guy, Arrested Development, It's Always Sunny in Philadelphia, Two and a Half Men, How I Met Your Mother and many more. As Nico Lang writes for the Los Angeles Times, this "outdated bigotry" is completely "out of step" with a cultural moment — a moment that Time calls "the transgender tipping point" — when transgender people are finally beginning to achieve widespread cultural and legal acceptance.
The pilot of Transparent breaks away from the pack by approaching Maura's transition with a refreshing degree of sensitivity and respect. According to an interview with the Advocate, Soloway is consulting with GLAAD and other LGBT groups to avoid the missteps of past comedies that mishandle their transgender characters. Her attention to detail shows. Maura's appearance is understated, nothing like the caricatures of transgender women that appear in movies like The Other Woman. And a scene showing Maura at a support group will likely resonate among transgender viewers, thanks to an authentic anecdote about the difficulty of shopping with a photo ID that does not match one's physical appearance. Come September, this will be the show to watch for people interested in transgender representation in the media.
Transparent does have one glaring flaw, however: Soloway decided to cast a cisgender man (Tambor) in the role of a transgender woman, even after the director of Dallas Buyers Club earned the ire of the LGBT community for casting Jared Leto as an HIV-positive transgender woman last year. Casting cisgender men as transgender women can perpetuate the stereotype that transgender women are "really men" or just "men wearing dresses." And as Chelsea Hawkins wrote for Mic last year, whenever a cisgender man is cast as a transgender woman, "it means someone who identifies as trans was passed up for the role." There are transgender actors, after all, and until veteran producers like Soloway give them exposure, transgender actors in transgender roles will remain the exception rather than the rule.
Soloway defended her casting choice to the Advocate, arguing that Maura belongs to a group of older transgender women, many of whom "don't necessarily medically transition," but, in the wake of Laverne Cox's powerful, Emmy-nominated performance on Orange Is the New Black, it's hard not to feel like Transparent will be a missed opportunity for a breakout performance from an older transgender thespian. And when transgender actors, writers and directors — like the creators of the upcoming comedy series The Switch — have to resort to crowdfunding if they want creative control over their own stories, it's especially difficult to accept a show handing over a transgender role to an established cisgender actor like Tambor, who has had a long career on television.
Within the constraints of its casting choice, however, Transparent is poised to do some important work in the sphere of transgender representation. In its first episode, the show already turns the tables on the stereotype that transgender people, especially transgender people with families, are selfish for deciding to transition. Transparent refuses to participate in this stereotype, instead depicting Maura as an empathetic parent who can't even find an appropriate moment to come out to her adult children because they're too self-absorbed. Maura's eldest daughter is caught up in an affair and her younger set of twins are still struggling to find their way in the world. "How did I raise three kids who can't see beyond themselves?" Maura asks, at one point. Soloway, it seems, has produced a show where the most humanized character is a transgender woman.
Image Credit: Getty Images 
While initial signs are promising, Transparent's representation of Maura will sink or swim based on the remaining episodes in the series. As Andé Morgan notes for the Bilerico Project, Soloway will have to "resist the temptation to dip into tropes and sensationalism" at every step of the way. The line between making a transgender comedy and turning a transgender person into a comedy is all too thin, and Soloway must walk it carefully if she hopes to avoid a Dallas Buyers Club-esque outcry from the LGBT community. But if Transparent succeeds, it might be able to stand alongside Orange Is the New Black as a show that will finally help the media cross the transgender tipping point.
Amazon Prime will release the remaining first season episodes of Transparent Sept. 26.