Fox News Host Has the Dumbest Response to This History-Making Little League Pitcher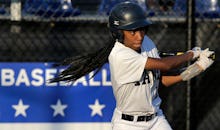 Thank you, Fox News, for keeping sexist narratives about women in sports alive and well — even for women who happen to be all-star child athletes.
The news: On Wednesday's Fox and Friends, Eric Bolling and co-host Elisabeth Hasselbeck interviewed 13-year-old Mo'Ne Davis about her landmark Little League career. What ensued was stereotypical misogyny from Bolling and proof that Davis' and her role as a premiere Little League pitcher doesn't even register (or resonate, for that matter) with him.
In the segment, Bolling asks, "What about, you know, a more typically ... I don't know ... more female-friendly sport like soccer, no?" Hasselbeck attempts to smooth over Bolling's sexism, but the damage is done.
Bolling doesn't get that Davis plays baseball because she loves it and it's her favorite sport (though she does admit to playing soccer). She doesn't need to play more "girly" sports like soccer (a sport which can require marathon sprinting and agility), because Davis pursues her passion.
Davis is already a Little League champion. On Sunday, Davis put her name in the history books by pitching a shutout Mid-Atlantic Regional final game, leading her team, the Taney Dragons, to the Little League World Series (LLWS).
Skip to 00:30 to see her all-star power throw.
Davis is the only girl on her team, and the first in her age group to compete in the LLWS in 10 years. She joins the ranks of only 17 other girls who have played since women were permitted into the tournament 40 years ago.
But for Davis, this isn't about making a statement; it's about the game. "No matter who you are, you should be able to do what you like to do and what you've always dreamed of doing," Davis told ESPN. And Davis focuses on striking out batters and throwing 70-mph fastballs.
The backlash: The Twitterverse responded to Bolling's question in the most appropriate fashion: anger.
The takeaway: Davis' on-camera response shows that even when it comes to confronting misogyny, the high road is the best option. Her uplifting and empowering story is a great reminder of how much young people have to offer, as they break new ground and deal with outdated reactions to their achievements.  
In the video, Davis is confident that she could strike Bolling out. And maybe if she does, she'll show Bolling what the rest of us see: On the field, it's any man's or any woman's game. The player versus player mentality is about skills, not gender.