Politicians Are Finally Starting to Speak Out About Ferguson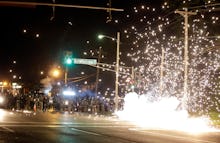 Five days after the shooting death of Michael Brown at the hands of local police, politicians have begun addressing the protests — and the unbelievable responses — that have transpired since.
Most prominently, President Obama took a break from vacationing on Martha's Vineyard to address the situation today with what ended up being a pretty moderate response, given the riot gear, tear gas and potentially unlawful arrests going down in Ferguson, Missouri.
"We lost a young man, Michael Brown, in heartbreaking and tragic circumstances. He was 18 years old, and his family will never hold Michael in their arms again," Obama said, adding that there's "no excuse for police to use excessive force against peaceful protests." He also addressed the arrest of two reporters on Wednesday night, saying that "police should not be bullying or arresting journalists who are just trying to do their jobs."
Obama hedged his light condemnation of the local police, saying, "There is never an excuse for violence against police or for those who would use this tragedy as a cover for vandalism or looting." He closed with a plea bring peace and calm to Ferguson, perhaps remembering the partisan backlash that accompanied past attempts to weigh in on racial issues.
Fellow Dems: Some members of Obama's party have driven a much harder line on Ferguson. Rep. John Lewis (D-Ga.), a civil rights movement leader, called on the president to enforce martial law in Ferguson during an appearance on MSNBC. "If we fail to act the fires of frustration and discontent will continue to burn not only in Missouri but all across America," he said.
Sen. Elizabeth Warren (D-Mass.) also came down hard, though she stopped short of calling for martial law.
Getting those answers may be up to the federal government — Obama announced that the Department of Justice and the FBI will be investigating the shooting and the aftermath.
The other side of the aisle: A cadre of Republicans, meanwhile, have been nearly as vocal on the matter. The libertarian-leaning Rep. Justin Amash (R-Mich.) condemned the police tactics on Twitter.
Sen. Rand Paul (R-Ky.), a potential 2016 presidential contender, wrote an opinion piece for Time calling for police demilitarization. "Anyone who thinks that race does not still, even if inadvertently, skew the application of criminal justice in this country is just not paying close enough attention," he wrote. "Our prisons are full of black and brown men and women who are serving inappropriately long and harsh sentences for non-violent mistakes in their youth."
Tea party favorite Sen. Ted Cruz (R-Texas) put out a statement on Facebook: "All of our prayers are with the citizens of Ferguson, that the violence will subside and peace will be restored," he wrote. "Reporters should never be detained—a free press is too important—simply for doing their jobs." (If you're looking to avoid racism, maybe stay away from the comment section on that one.)
Even Speaker of the House John Boehner, who was earlier busy tweeting about sharks, got in on the action.
Local leaders: The politicians most active in Ferguson have been local, with some even taking to the streets in protest. St. Louis Alderman Antonio French was arrested last night after taking video of protests and tear gas attacks.
Democratic Missouri Gov. Jay Nixon (finally) got around to addressing the matter last night, calling the police response "deeply troubling." He's spending today in Ferguson, where reports say he'll announce that local police are being replaced by state and federal officers. So far, though, all he's promised is a "change in tone" while noting that state officials were going to "make some shifts." Until then?