The FDA Just Denied This Gay Teen's Selfless Final Wish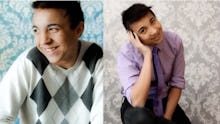 The FDA is making gay men think twice about altruistic gestures. 
Last July, 16-year-old AJ Betts committed suicide after years of being bullied about his gender expression, sexuality, mixed-race heritage and a childhood cleft lip. Just weeks before his death, Betts became an organ donor, but the potentially life-saving implications of that generous act have been stymied by controversial, decades-old regulations, mostly to do with the fact that he was openly gay. 
Betts' mother, Sheryl Moore, found out about this rejection when she received a letter in the mail. Betts' kidneys, liver, heart and lungs were successfully donated to others, but his eyeballs and other tissue were not, due to a Food and Drug Administration lifetime ban for gay men — specifically, any man who has had sexual relations with another man after 1977 — from donating blood, as well as restrictive guidelines for donations involving types of blood-related tissue.
Speaking with Des Moines, Iowa, TV station KCCI, Moore expressed bittersweet feelings that some of his organs were donated while others were not. 
Citing extant data, the FDA maintains that its regulations are designed aspreventative measures: "Men who have had sex with other men [MSM] represent approximately 2% of the U.S. population, yet are the population most severely affected by HIV. In 2010, MSM accounted for at least 61% of all new HIV infections in the U.S., and an estimated 77% of diagnosed HIV infections among males were attributed to male-to-male sexual contact."
However, a little context is important here. While the FDA's statistics are well-researched, the numbers only tell one side of the story. The FDA's ban came about in the midst of a national AIDS crisis in the early '80s, but has not been changed significantly since then, despite growing calls for revision.
The American Medical Association voted to end the FDA's lifetime ban on gay blood donations last year, citing updated screening procedures and precedent in several countries, like the United Kingdom. Meanwhile, Harvard bioethics law professor Glenn Cohen told CBS that such rules are "out of step with peer countries. It's out of step with modern medicine, it's out of step with public opinion and we feel it may be legally problematic."
Image Credit: KCCI/YouTube
AJ Betts personifies an instance in which a less restrictive FDA policy, coupled with strict testing protocols, could have resulted in a life-changing organ donation. However, until research convinces the FDA otherwise, large swathes of the LGBT community will continue to face hurdles to prove they are healthy enough to donate their organs or blood.
"This is archaic," Betts' mother told KCCI. "And it is just silly that people wouldn't get the life-saving assistance they need because of regulations that are 30 years old."
The FDA contends it is open to revising its regulations, but has not found sufficient data to do so.