20 Powerful Protest Signs That Prove America Stands with Ferguson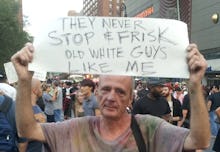 In the wake of Michael Brown's fatal shooting in Ferguson, Mo., over the weekend, thousands of Americans across the country came together on the evening of Aug. 14, challenging leaders and everyday people to demand justice and answers for Brown, his family and for the people of Ferguson.
During those hours of solidarity, which included rallies, marches, protests and pauses for reflection, the grief and frustration found new life in the many signs created to share messages with the greater community and indeed the world.
As reported by the Root, online media activist Feminista Jones organized the rallies using the hashtag #NMOS14, inviting Americans to collectively participate in a national moment of silence for Michael Brown, Ferguson, Mo., and the victims of racialized police brutality in general. In New York City, the demonstration began in Union Square, with the peaceful crowd embarking on a trek to Times Square and, in effect, showing the world that America stands with the family of Michael Brown. 
Despite a brush with the NYPD's own show of force, a large group of protesters remained on the streets into the small hours. While the protest itself may have been peaceful, the signs boldly displayed messages of solidarity and support, words that some could barely muster the composure to say out loud.
1.
2.
3.
4.
5.
6.
7.
8.
9.
10.
11.
12.
13.
14.
15.
16.
17.
18.
19.
20.