How One Man Single-Handedly Changed the Tone in Ferguson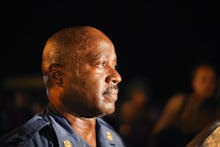 Wearing normal uniforms with no military gear. Marching alongside protesters. Hugging mourners.
There has been a literal changing of the guard in Ferguson, Mo., as Missouri Highway Patrol Capt. Ron Johnson, a Ferguson native, has taken over command of the police operation. Appearing at a press conference Friday with Missouri Gov. Jay Nixon, Johnson addressed the change in tone in Ferguson: "Yesterday, we saw what it could be, we saw what it should be, we saw what it will be."
Johnson, who is black, pledged yesterday to avoid infringing on protests. "When I see a young lady cry because of fear of this uniform, that's a problem." Johnson said to the Washington Post. "We've got to solve that."
Later, according the Post, a man whose niece had been teargassed asked Johnson what he would say to her. "Tell her Capt. Johnson is sorry and he apologizes," he replied.
That empathy went both ways, per the Post. "They respect us," one protester with a megaphone said about the newly peaceful police. "So let's respect them. They've given us the sidewalk, so lets stay out of their street."
Take a look:
Going forward: Nixon brought in the State Highway Patrol to take over from the St. Louis County police, who had been using tear gas and rubber bullets on protesters, arresting journalists and generally looking like soldiers in a war zone instead of local cops. Johnson and his altered police tactics were largely praised for helping instill an air of calm that had been missing from law enforcement over the past few nights.
It shouldn't really be a surprise that protesters react differently to masked, armor-clad officers point rifles at them than they do to to officers who speak to them politely in plain uniforms. (Refraining from firing rubber bullets and teargas canisters doesn't hurt, either.)
Racial discrimination and police militarization, of course, will not disappear simply by putting Ferguson in the hands of better cops. Being able to protest in peace is just a small step, but it's still a significant one, as sad as that may be.