One Rapper Just Released a Powerful Song About Ferguson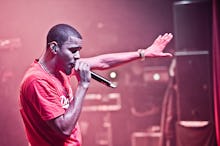 When rapper J. Cole released "Be Free" this morning, he posted it with a note. It begins, "Rest in peace to Michael Brown and to every young black man murdered in America, whether by the hands of white or black." This song delivers some of that peace.
Soon after Cole put the song up, the Ferguson Police Department released the name of the officer who killed Michael Brown. The tensions and violence are far from over, but a "certain calm" has descended in the city, according to law enforcement officials. The military-armored police units have reportedly moved out, to be replaced by a much less antagonistic and intimidating force, the Missouri Highway Patrol. Hopefully, this will mean an end to the tear gas and rubber bullets that turned the area into a war zone Wednesday night. 
Even as the dust settles in Ferguson, we have some hard questions to ask ourselves, as a culture, about why this happened and how we can keep it from ever happening again. "Be Free" is a touching tribute to all victims of racial injustice who have so tragically fallen as our country struggles to work through its brutal past. For better or worse, this track puts the events of the past week in their rightful context. Here's hoping that long history will soon be past.