The WHO's Disturbing New Statement on Ebola Means This May Be Far From Over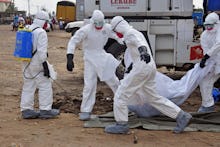 More bad news, world: You have "vastly underestimated" the scale of the current Ebola outbreak.
Al Jazeera reports the World Health Organization has reviewed the number of deaths and reported cases in West Africa since March. The consensus? "[The] situation is worse than previously thought."
Image Credit: AP
It's unclear what about "1,069 deaths from 1,975 confirmed, probable and suspected cases" they didn't consider bad before. But one thing is certain: They're "coordinating a massive scaling up of the international response, marshalling [sic] support from individual countries, disease control agencies, agencies within the United Nations system, and others," the WHO wrote on its website, according to Al Jazeera.
Image Credit: AP
Background: In other words, this is far from over.
Media outlets and authorities have bent over backwards in recent weeks to ensure Americans we're safe from Ebola. But that's little consolation across the Atlantic, where Guinea, Liberia and Sierra Leone have amassed all but four fatalities in what's been called the worst outbreak in history.
The remaining deaths occurred in Nigeria, where the virus first appeared in the form of Patrick Sawyer, a Liberian-American traveler who died in Lagos on July 25.
Image Credit: AP
Guinea has since declared a public health emergency, while officials in Liberia and Sierra Leone have cordoned off areas with large numbers of infected people, Al Jazeera reports.
Image Credit: AP
Travel checkpoints have also been established at airports and numerous border crossings: In Guinea alone, up to 3,000 people are still waiting to enter the country at 17 different checkpoints.
Image Credit: AP
Meanwhile, increasing numbers of health and aid workers have been dispatched to affected areas in a desperate effort to contain the virus.
But challenges still remain: One of the more discouraging examples comes from the Liberian Observer.
According to the report, under-equipped (and presumably under-trained) Liberian nurses may have compromised a government effort to test citizens in eight counties for Ebola by using just three thermometers on "thousands" of patients.
The danger of this goes without saying: Ebola spreads through contact with infected bodily fluids, including saliva.
Another report from The Daily Beast claims the traditional practice of kissing the dead can contribute to the virus' spread, too. Doctors have been directed to advise families against doing so.
But: At this point – in the absence of a proven vaccine – experimental drugs seem one of the only viable means of quelling the outbreak.
And after days spent debating the "morality" of distributing unapproved vaccines to afflicted West African countries (a debate absent when the drugs were used in the U.S., importantly), a WHO "ethics panel" has decided it's okay, according to NBC News.
The decision's long term impact is yet to be seen. Meanwhile, the virus shows few signs of dissipating.