Texas Governor Rick Perry Is Now Facing Severe Consequences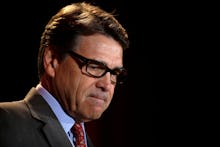 The news: Remember the guy on the left?
Texas Gov. Rick Perry made headlines last month by launching his own personal holy war against "illegal" refugee children. Now he's been indicted by a Texas grand jury, in a supreme case of situational irony.
Image Credit: AP
He's charged with two felony counts, according to the Texas Tribune: Abuse of official capacity and coercion of a public servant. Both stem from his 2013 threat to veto $7.5 million in funding for the state's Public Integrity Unit, which investigates public corruption, according to Mother Jones.
Gawker reports that, if convicted, Perry faces up to 109 years in prison.
Background: The governor was riding high before this legal hiccup.
A clear example was his response to the influx of unaccompanied minors from Honduras, Guatemala and El Salvador at the U.S.-Mexico border in recent months. Whether publicly shaming President Obama for "mishandling" the situation or calling on the National Guard to "protect" the border, the governor's quasi-xenophobic rhetoric spoke to thousands of anti-immigrant zealots nationwide.
Image Credit: AP
Image Credit: Twitter
So how did it come to this? The trouble started in April 2013, when Travis County District Attorney Rosemary Lehmberg — who oversees the Public Integrity Unit — was arrested for drunk driving.
Image Credit: AP
Mother Jones reports that Perry called for her resignation, claiming the people of Texas could no longer trust her. But when Lehmberg refused, Perry threatened to use his gubernatorial veto power to cut funding for her entire unit, which, incidentally, was investigating allegations of "mismanagement and corruption" linked to the Cancer Prevention and Research Institute of Texas, a major Perry initiative, according to Gawker.
Here's the problem: That may have been illegal.
By placing Lehmberg's arrest at the center of his efforts, the governor may have violated Texas laws that "prohibit coercion or bribery of public officials," according to Mother Jones. Texans for Public Justice, a left-leaning watchdog group, filed a complaint against Perry in June 2013.
"Threatening to take an official action against her office unless she voluntarily resigns is likely illegal," said TPJ Director Craig McDonald, according to Mother Jones. "The governor overstepped his authority by sticking his nose in Travis County's business."
Gawker reports that Perry's legal counsel has denied any wrongdoing on his part. Meanwhile, the governor's 2016 presidential ambitions look to be in serious jeopardy.