Bill Gates Has the Ultimate Ice Bucket Challenge Video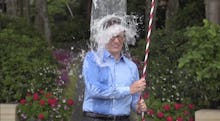 It's going to be hard to beat this.
This past week, college drop-out Mark Zuckerberg challenged college drop-out Bill Gates to the ALS Ice Bucket challenge, and the result couldn't have been better.
It starts with Gates accepting Zuckerberg's challenge.
Image Credit: YouTube
"I'm glad to give to ALS. It's a great cause," Gates says in the video. "But I want to accept this challenge, I want to do it better than it's been done." 
And did he ever. Leave it to a guy like Bill Gates to take the simple act of dumping a bucket of water on your head and taking it to the next level. 
Just from a screenshot like this:
And this:
You can tell this isn't your run of the mill ALS Ice Bucket challenge.
And it certainly wasn't:
The ALS Ice Bucket challenge was started by Boston College baseball player Pete Frates and his friend and fellow ALS patient Pat Quinn as a way to raise awareness and money for Amyotrophic Lateral Sclerosis, also known as ALS or Lou Gehrig's Disease. As Mic has previously reported, according to CBS Boston, the ALS Association announced it raised $168,000 in the same time span that it raised $14,000 last year.
Towards the end of his video, Gates challenged SpaceX and Tesla CEO Elon Musk, TV host Ryan Seacrest and TED curator Chris Anderson. Let's see if they can step it up, but it'll be tough to beat Gates ... although Conan O'Brien is already coming in hot at a close second:
As is Chris Pratt: