These Georgia Teens Developed a Simple App to Take On Police Abuse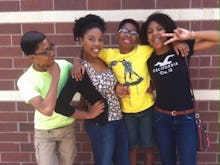 Police brutality? There's an app for that. 
Ferguson, Mo., the site where officer Daren Wilson shot and kills the unarmed 18-year-old Michael Brown on Aug. 9, is looking more like a war-zone than a St. Louis suburb right now. Amidst week long civil unrest in Ferguson, comes an innovative solution to police misconduct from teenagers: an app.   
This week, three Georgia siblings will roll out a beta version of their app Five-O, which focuses on citizen interactions with law enforcement. Users will be able to document every step of an encounter with cops nationwide that includes community message forums on local law enforcement issues. 
How it works: As the video shows, the app has several tools. For example, the "Know your rights," tab summarizes what your rights are when you are stopped by the police. Users can make detailed incident reports, so citizens can gauge good and bad behaviour of their local police officers. 
"The idea is to collect data that users can then bring to community activists, the media, and other forms of law enforcement," according to a Business Insider report. Ideally, positive interactions will bolster precincts' efficiency and set an example, while negative encounters will serve as jumping off points to problem-solve. 
The creators behind Five-O: The tech-savvy teens are 16-year-old Ima, 15-year-old Asha, and their brother 14-year-old Caleb Christian. 
Ima explained that after seeing several negative news reports about police brutality and talking with her parents about them, she wanted to positively impact the national dialogue.
"[Our parents] always try to reinforce that we should focus on solutions. It's important to talk about the issues, but they try to make us focus on finding solutions. That made us think why don't we create an app to help us solve this problem," Ima told Business Insider. 
The siblings already have an app development company called Pinetart Inc., which is behind Five-O. With proficiency in coding language and aptitudes for technology, the siblings were able to build Five-O, along with two other apps, on their own. 
The takeaway: Five-O won't directly put an end to police brutality, but these three teens' activism is an inspiring step forward. As the country continues to lambaste improper cop behavior, stepping up and doing something is much better than standing helplessly on the sidelines. As insurmountable as our problems seem to be, we'll never fix them if we don't start. And these teens did. 
h/t City Lab