J.K. Rowling Just Released Another Brand New Harry Potter Story Online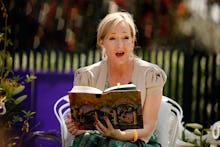 The Harry Potter author has done it again.
Potter fans woke up this morning to a brand new story posted on Pottermore, J.K. Rowling's website. The 500-word vignette is a short biography of Celestina Warbeck, a celebrity character from the series famous for her singing abilities.
The premise: Though she was Molly Weasley's favorite singer and appeared early on in the series — in the second book — Rowling revealed little information about Warbeck's character.
But she's put an end to some uncertainty with this latest story. Warbeck's birthday was revealed as Aug. 18, which is presumably why Rowling released the story today. We also know what kind of wand she used — Larch and phoenix feather, 10 1/2 inches long, flexible — as well as the fact that her mother was a Muggle and her father was a wizard. Scandalously, she married her manager but left him for the composer Irving Warble, which made her personal life "much fodder for the gossip columns of the Daily Prophet."
The story is accompanied by an audio clip of Warbeck singing — the first time a song has been posted on Pottermore, Mediabistro reports.
"Although we never lay eyes on Celestina during the whole seven volumes of the Potter books," Rowling noted at the bottom of the piece, "I always imagined her to resemble Shirley Bassey in both looks and style."
Image Credit: Getty 
Like last time, fans have taken to social media. And they're definitely excited:
Keep them coming, Jo! Although Potter fans will never again experience another full-length book, these short pieces are a pretty wonderful alternative.
Fans should continue to stay tuned for new releases, as it doesn't appear they're going to disappear anytime soon. Though we don't know for sure when they'll arrive, one thing to pay attention to is dates. Pottermore's last story release, for example, was released on July 8, which coincided with the opening of Universal Orlando Resort's Diagon Alley.
Image Credit: Getty
Rowling herself seems to enjoy keeping Harry's world alive, and the scraps she's been giving us are only further coloring that world. Harry and his friends may have been laid to rest on her pages, but that doesn't mean Rowling has given up on them entirely.