If You Love Passion Pit, Stream This Woman's New Album Right Now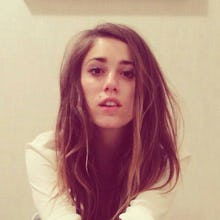 It's been nearly two months since rising Los Angeles singer Ryn Weaver (real name Aryn Wuthrich) broke onto the Internet with her absurdly catchy debut single, "OctaHate," and at least a few music bloggers are still trying to figure out where the heck she came from. The previously unknown 21-year-old singer's meteoric rise to success — spawned by a flukey Tinder connection with hitmaking producer Benny Blanco and subsequent collaboration with Passion Pit's Michael Angelakos — initially seemed covert enough to trigger Lana-grade accusations of illegitimacy. But roughly two million SoundCloud plays later, it's clear she's here to stay.
Regardless of Weaver's slightly vague path to stardom, where she's going now is more important than where she came from. If her 10-day-old Promises EP is any indication, that's right to the top of the Hot 100.
Produced by Angelakos and Blanco over the course of what sounds like a tense 12 months between New York and L.A. (Weaver has admitted to writing the title track as an apology for losing direction during the recording process) Promises is a blissful indie pop record driven by Weaver's alternately playful and flooring wail. The singer's quiet-loud-quiet ambidexterity paired with Angelakos' liberal synth-work — which frequently sings itself — makes for a sonic blow as powerful as Passion Pit's masterful 2012 album Gossamer.
As with that record, Promises' alt-pop crossover appeal is a force to be reckoned with. While the 15-minute album's FM merits are indisputably its most glaring (Weaver's heart-on-sleeve yowl basically begs to be broadcast), there's something slightly brainy about lines like "No hocus or pocus, my focus is drunk on the floor / And mumbling something about one more," and Angelakos' busy Moogwork is too complex to be tossed off as mere pop. It's unclear whether Weaver will eventually enamor the college crowd or the Top 40s crowd (though those seem the two most likely options), but whichever it is, there's basically no chance she won't be a star.
That's a testament to how Weaver and her crew went about creating Promises from the start: Star by star, track by track and tweet by tweet. Now, Weaver is the up-and-comer everyone is watching, and she's surrounded with an impenetrable entourage. Judging by Weaver's success with Promises, this may well be the new model of star making — dating apps, covert recording in Brooklyn apartments and then a sudden head-turning drop.
You can stream Promises below, and keep an eye out for tour dates down the line.