Peaceful Protests Devolve Into Pandemonium in Ferguson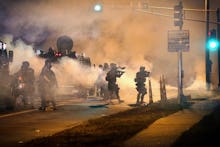 The news: The scene in Ferguson turned violent once again on Monday night after repeated clashes between police and protesters.
Despite Gov. Jay Nixon's deployment of National Guard troops to keep the peace, the ninth night of unrest in the Missouri town also saw police launch tear gas and stun grenades at protesters prior to reports of gunfire..
Things seemed relatively calm throughout the early evening: 
But things soon took a chaotic turn when police deployed tear gas and flashbombs:
The police action came "after hours of street protests that had been tense but mostly peaceful," Reuters reports. 
CNN's Jake Tapper explained the situation this way: "If people wonder why the people of Ferguson, Missouri are so upset, this is part of the reason. What is this? This doesn't make any sense," he said. 
Multiple protesters were also arrested:
Wesley Lowerey of the Washington Post reported that a fire was set in the middle of the street, and that homemade bombs were being prepared: 
Earlier in the day, President Obama called on protesters to exercise restraint after Sunday evening's chaotic events. From the looks of it, a peaceful night in Ferguson may be a long ways off.