13 Videos Show Why You're Not Listening to Enough K-Pop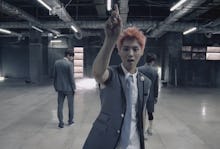 KCON is America's first festival dedicated to K-pop and "Hallyu," or Korean Wave. It debuted in 2012 in Los Angeles to a lot of fanfare, pulling in about 10,000 concertgoers. But if you need proof that times are changing, just look to last weekend's KCON: A whopping 42,000 attended.
K-pop may stand for "Korean pop," but that music is a global phenomenon, and it's on the cusp of blowing up in America. Although every American, and perhaps every global citizen is aware of PSY's "Gangnam Style," K-pop is much bigger than one person.
Here are 13 of K-pop's most innovative, creative and entertaining videos, showcasing the genre's diversity and staying power.
1. "Summer Time" by Dynamic Duo
In the early 2000s, Dynamic Duo came out with the best-selling hip-hop album in South Korea. But well before that, they were dear friends, and you can see it in the video. They got their start in the sixth grade and have come up all the way to the top since. They now have their own respected hip-hop label, Amoeba Culture.
2. "Rum Pum Pum Pum" by f(x)
f(x) covers a lot of ground being a multi-national girl band composed of Chinese, Korean, Taiwanese-American and Korean-American members. But the music is definitively K-pop. This video was their biggest hit of 2013 and, besides being incredibly fun, showcases the possible spectrum of gender identity in a beautiful way.
3. "Fantastic Baby" by BigBang
BigBang is known for their flashy, envelope-pushing videos, and this one is a prime example — it's some bizarre meld of Tumblr fashion aesthetics with dystopic sci-fi. BigBang is a huge force commercially. It's labeled the "nation's boy band," and many of the group's members have split up to do equally successful solo projects. The epically famous G-Dragon is a BigBang member, and members Seungri and Daesung have branched out to TV and even musicals.
4. "Doom Dada" by TOP
TOP has found success in BigBang and on his own. He's known for his striking good looks, and is recognized as an international sex symbol — even Rolling Stone said so in 2013. He's also a huge fan of cult movies as his surreal, black-and-white video for "Doom Dada" suggests.
5. "U & I" by Ailee
Ailee is a recent artist who released her first single, "Heaven," in 2012. She grew up in New Jersey and went to college in America before deciding to pursue her musical career. She uploaded videos on YouTube until she started to get recognized. She has covered the likes of Whitney Houston and Beyoncé — high marks that she consistently hits with her amazing voice. She moved to South Korea and has been killing the game with her powerhouse vocals ever since. The blaring trumpets and the retro sound of "U & I," compared to the soft, girly "Heaven," show that she's as versatile as they come.
6. "Like Money" by Wonder Girls feat. Akon
Part of K-pop's appeal is the commitment across the genre to intricate, futuristic films. Each is almost like a mini feature film with complete narrative arcs and amazing special effects. This one is all about bionic women. American singer Akon is completely upstaged by the girls in their skintight silver getups as they flawlessly execute robotic dance moves.
7. "Ugly" by 2NE1
If '90s and early 2000s girl power R&B groups like TLC and Destiny's Child were your jam, 2NE1 (pronounced twenty one or to anyone) is the Korean group for you. "Ugly" really has that emotional '90s power ballad sound down pat, along with the strong vocals. When the English hook comes in, it's impossible not to sing along. 2NE1 knows how to mix musical influences, bringing hip-hop, pop, R&B and even reggae together with a trademark swagger. "I Am the Best" is also a must-see, featuring the girls in all-out wrestling gear.
8. "Bubble Pop!" by Hyuna
The music video and song are worthy of the title — sugary and flirty, but with a childlike innocence. Hyuna sounds like a crossover between Kesha and obscure Swedish electro-pop. She rose to prominence in 2007 with her girl group 4Minute, but her single "Bubble Pop!" is one of her most beloved. She also co-stars in "Gangnam Style," so she's a familiar face to the international audience. In 2011, she was ranked 17th on Billboard's "21 under 21," and it's clear she's here to stay.
9. "Everybody" by Shinee
Many look down on pop music for being overly commercialized, but there's something spectacular about a perfectly engineered pop song and video. Boy band Shinee consistently evokes that kind of awe. Their synchronized dance moves are out of this world. Their androgynous street style even inspired a fashion movement called the "SHINee trend," demonstrating their overwhelming influence.
10. "Bloom" by Ga-In
This song is a little slower and softer than the other pop bangers on the list. "Bloom" is about flowers, first love and, undoubtedly, about the female orgasm. It's sensuous, lovely and artful. Ga-In is a member of female super group Brown Eyed Girls ("Abracadabra," their biggest hit, is worth checking out), but she's found even more success as a solo performer.
11. "Growl" by Exo
Exo is a downright sensation. They are the most re-blogged K-pop group on Tumblr, and have intensely loyal fans (most similar to One Direction fans) known as EXOtics. Even Lady Gaga loves Exo.
They are split into two groups. There are six members in Exo-K (Exo-Korea) and six in Exo-M (Exo-Mandarin). "Growl," their single off of XOXO, topped the chart at first place on all three of Korea's major radio stations.
12. "Babay" by Zion.T
Zion.T is a bit less famous than some of the other super groups on this list, but he can still hold his own. He's on the label Amoeba Culture, managed by Dynamic Duo, and his solo album was named Korea's best R&B Album last year by MTV Iggy. "Babay" boasts a nostalgic sound, with a Michael Jackson vibe and an intensely creative video reminiscent of Wes Anderson.
13. "200%" by AKMU
It seems like girl-boy duos are less common in K-pop than single-gender groups, but AKMU is proving that it can be done — and done well. They're siblings who spent some time in Mongolia before moving back to South Korea to pursue a musical career. The video is shy and fun, showcasing a lot of hometown scenery that calls to mind a sentimental first teenage romance.