Taylor Swift Just Perpetuated Black Stereotypes in the Worst Way Possible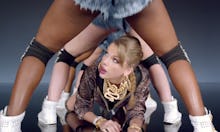 It's hard to criticize Taylor Swift's new single, "Shake It Off," because it's all about how dumb her haters are. Then again, when you intentionally culturally appropriate and then make a mockery of people who don't want you to culturally appropriate, you sort of deserve to be criticized.
Released yesterday, the video is clearly meant for a younger audience — as you can tell from the tutus — but that only makes it more offensive when Swift dons gold hoop earrings and chains, high-top kicks and cut-off shorts and begins twerking. That's also the moment when the whole video devolves into racist stereotyping and cultural appropriation. Swift is seen crawling underneath a black woman's legs, looking up into her nether regions as she twerks to the beat of Swift's song. She seems to think there's something funny about all the talk about cultural appropriation in music.
But there isn't. This video is a terrible combination of fetishization, anti-black misogyny and elements of rape culture voyeurism — hearkening back to the Hottentot Venus. Swift is getting a lot of hate for the video right now, and there's good reason — catchy song aside — we shouldn't let her shake this off.
"Black culture" is just one of many pop cultural spoofs Swift includes in the video, including clear nods to Lady Gaga, Olympic gold medalist and gymnast Gabby Douglas and others who endure criticism and intense public pressure to always appear perfect. In context of the song's message, the twerking represents a gesture of sympathy from Swift to Lily Allen who was lambasted following the release of the 2013 video for "Hard Out Here."
That video was itself a mockery of all the backlash to Miley Cyrus's infamous twerking incident, but various writers — including Jezebel's Erin Gloria Ryan — decried the video's race problem, despite its attempt to send a feminist message about sexism and misogyny in the recording industry. The problem with all these videos of white women twerking, or standing around black women as they twerk, is that it is major act of cultural appropriation, as well as an attempt to "accesorize with black women's bodies."
Image Credit: Lily Allen via YouTube
It should be obvious that it's never okay — perhaps especially in jest — to make an accessory of black bodies, but this is a problem that good people try again and again to eradicate in pop music. Swift, however, terms these people "haters" and seems to feel that Allen's own controversy is simply proof that people are too sensitive. But across the Internet, observers and public figures, including Earl Sweatshirt from Odd Future, have taken to Twitter to express their disgust for the new video's encouragement of black stereotypes.
Perhaps the next time Taylor Swift wants to prove a point about "shaking off" haters, she can do so without appropriating and reinforcing stereotypes. It's not an empowering anthem when it comes at the expense of the dignity and respect of black people — especially when you're selling your music largely to young white girls.
(h/t NME)