Mo'ne Davis Shows the World What a Kickass 'Sports Illustrated' Cover Girl Can Look Like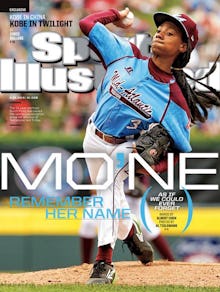 Mo'ne Davis has scored plenty of firsts as a Little League pitcher, from being the first female player to throw a complete shutout game in the Little League World Series to claiming Beyonce's "Run the World (Girls)" as her at-plate anthem (we're assuming that's a first, but that's just a guess). 
On Tuesday, the 13-year-old from South Philadelphia made history yet again as the first Little League player of any gender and of any race to grace the cover of Sports Illustrated magazine. Ever. 
Her 70-m.p.h. fastball would be enough to be proud of, before all the historical milestones and media accolades. But beyond her raw talent, Davis is also confident and poised beyond her years, something that has the public — and magazine editors — enthralled. 
"Last week, this week, maybe next week, she's owned the sports conversation," Sports Illustrated manager editor Chris Stone remarked, according to the Los Angeles Times. "How often do you get to say this about a 13-year-old girl? It's the easiest type of story to identify as a cover story." 
And she's the ideal kind of role model every kid, particularly girls, should be seeing on Sports Illustrated covers. As she mused to ESPN.com this week, "I never thought at the age of 13 I'd be a role model... I always wanted to be a role model, but being a baseball role model is really cool."
Cool indeed. We're tearing this one out and pasting it on our imaginary childhood bedroom walls.