Ferguson Cop to Protesters: "I Will Fucking Kill You"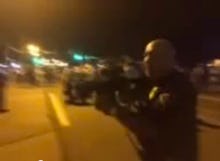 Almost two weeks after the shooting death of Michael Brown by a police officer, the atmosphere in Ferguson, Missouri, is still extremely tense. On Tuesday evening, tensions seemed near a breaking point after a cop aimed an assault rifle at protesters while threatening their lives.
In the video, the protestor can be heard responding to the officer, "My hands are up bro, my hands are up" -- a protestation that has, incidentally, been the rallying cry of those assembling in Ferguson.  
The St. Louis County Police Department said in a statement on Wednesday that the officer in the video, actually a cop from the St. Louis suburb of St. Ann, had been "relieved of duty and suspended indefinitely" over the incident:
On Tuesday, August 19, 2014, shortly before midnight, an incident occurred wherein a St. Ann Police Officer pointed a semi-automatic assault rifle at a peaceful protestor after a verbal exchange. It was at this time a St. Louis County Police Sergeant walked over and immediately took action, forcing the officer to lower the weapon, and escorting him away from the area. The unified command strongly feel these actions are inappropriate and not indicative of the officers who have worked daily, to keep the peace.  The St. Ann Police Officer involved in the incident has been relieved of duty and suspended indefinitely.
(h/t Vox)