Meet the Brilliant Young Man Bringing a New Kind of Blues to Life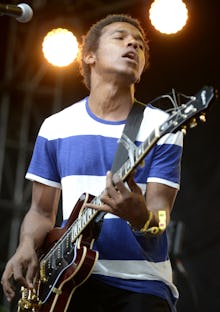 The first few seconds of Benjamin Booker's self-titled debut album sound like old-school blues guitar. "Violent Shiver" opens with bright, jagged strumming, slides down the neck, powerful if inelegant technique. You can hear Muddy Waters and B.B. King and Chuck Berry in it, and assume that this will more or less replicate those classic forebears or rip on vogue blues rockers like the Black Keys.
But then the song takes off like a rocket, with Booker shredding his voice to bits as if Kurt Cobain had a side project with the rhythm section of the Jimi Hendrix Experience. The 25-year-old Booker may play music rooted in the blues, but he's no imitator. He's created something more modern, urban and streamlined — a blues-meets-punk sound that's a welcome update to a field tired of shoddy rewrites.
Amid all the musicians making music on their computers, a new wave of blues-influenced rockers has kicked its way into the mainstream, more or less spurred by the White Stripes at the turn of the century. Since then, the Black Keys, Gary Clark, Jr., Alabama Shakes and the Heartless Bastards have crafted their own updates on an original American art form. Booker's music, however, is far from straight blues.
He's even hesitant to talk about a blues revival, or his part within a movement. "I wouldn't say I'm a bluesman," Booker said in an interview with Mic this week. "I was never a blues purist, into Stratocasters, traditional Delta blues. I listen to a lot of gospel, and soul, and punk, and shoegaze and Afrobeat."
And while all those diverse influences aren't immediately apparent on Benjamin Booker, the album is clearly a work of its times. There's a propulsive hum that no doubt comes from living in a busy city like New Orleans, as Booker does, an attention to detail and sound that belies studio professionalism.
"Wicked Waters," for example, rollicks head over heels at a tempo that would make punk rockers proud, with Booker's fleet guitar and drummer Max Norton shuffling away at the crash cymbals with gleeful abandon. It's a song always a millisecond away from falling off the rails, but its poise and charisma demand attention and respect.
Listening to these songs, it's hard to believe that Booker has lived for less than three decades. He howls into the microphone with the anguished rasp of a much older man, and his lyrics address classic blues themes of loss, abandonment and unrequited love. Even stranger, he's only been playing shows for two years: He started solo in tiny clubs in New Orleans before upgrading to a multi-musician electric setup a year ago.
And he's much happier now than he was then. "I hated acoustic shows," Booker said. "Having electric shows where people are dancing and there's energy is a lot more fun."
That's the energy that blazes through his debut album. Booker got to hone this energy opening for Jack White on a global tour earlier this year. Beyond being a venerable modern blues master, White is one of Booker's heroes; the first record Booker ever bought was the White Stripes' bruising Elephant. White's unpredictable bombast and explosiveness have rubbed off on the more tightly wound Booker. "I've learned to take more risks during the live shows, and not to have everything planned out," Booker said. "You have to feel out the crowd. A lot of the songs now are very different live than on the record."
But they share a certain energy. This is vital music, as passionate on record as it is live. "This record was the first thing I ever wrote," Booker said. "I hope that my music just evolves and gets better." It likely will. Bluesman or not, Booker is a musician who knows his traditions but refuses to look backwards — a man who understands where an old music might be needed again in a new world.