8 Ways Chicago Hip-Hop Is Better Than New York City Hip-Hop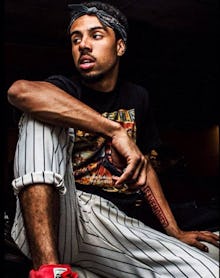 The 20 years of East Coast/West Coast hip-hop domination are officially over, and it's time for fans and industry insiders to look towards the midwest for the newest, hottest talent. Specifically, to Chicago.
Need proof? Hip-hop magazine XXL's 2014 Freshman Class cover features four Chicago natives (Chance the Rapper, Vic Mensa, Lil Durk and Lil Bibby), making it the first time a single city has been so heavily represented in that medium.
But it's no coincidence they're all getting the spotlight at once. Chicago has become a breeding ground for the best hip-hop talent, and is bolstering the careers of young artists with its remarkably strong scene.
Here are eight ways the city is ushering in a new era of hip-hop.
1. The rappers are so young.
Chalk it up to something in Chicago Public Schools' water, but most of the city's rising rappers are barely old enough to drink. Chief Keef, for instance, recorded his breakout video for "I Don't Like" at age 16, when he was on house arrest at his grandmother's for a weapons charge. Chance the Rapper tracked his breakout 10 Day mixtape during a 10-day suspension from high school.
And for every Chance or Keef that makes it big, there's a cluster of similarly young Chicago rappers watching, learning and repeating — Saba, for instance, who at 20 years old just released his startling sophomore mixtape ComfortZone featuring "Secondhand Smoke," one of the best tracks of the summer.
2. It has its own dance move.
It's called bopping, and it requires the quadrupedal dexterity of a cheetah. Debatably birthed at some point during the 1970s, the move recently made a resurgence at the hands (feet?) of West Side Chicago teenagers DLow and Lil Kemo, who've bopped in multiple rappers' music videos and even joined Chance the Rapper on stage at Lollapalooza earlier this month.
Want to give it a whirl? Here's a quasi-tutorial.
3. Chicago rap stays local.
New York, Los Angeles and Atlanta boast America's glitziest hip-hop scenes, and consequently draw most of its jetsetting rappers. (Chicago's even losing Tink, one of our best, to the South soon.)
But an upshot to this relative self-containedness is a skein of artists who grew up together, learned to rap together and eventually collaborate together.
4. We have Rahm Emanuel ...
... who in his two-year tenure as Chicago's mayor has closed 50 public schools, appointed a police chief who's fudged the city's murder stats, and largely ignored the city's long-standing history of racial segregation and concentrated poverty.
The only conceivable upside to any of this is that it necessitates some ferociously smart protest music, including Vic Mensa's dot-connecting "Time is Money."
5. The city has a long lineage of conscious rap.
Speaking of protest music: Common's 1994 single "I Used to Love H.E.R." didn't just accuse West Coast gangsta rappers of hijacking hip-hop — it paved the way for Common's backpacking contemporaries Kanye West, Lupe Fiasco and Rhymefest to popularize alt hip-hop despite gangsta rap's early-aughts FM-domination. (West's The College Dropout, for instance, came out the year after Get Rich or Die Tryin' topped 2003's year-end hip-hop chart.) 
6. It has a diverse set of genres.
But it's not all conscious rap. Often credited with revitalizing Chicago's hip-hop scene in 2012 is "drill," a brand of lurching, hardcore trap from Chicago's south side that couldn't be further from conscious rap. In fact, when Lupe Fiasco suggested the sub-genre was proliferating gun violence among Chicago's youth, its unofficial figurehead Chief Keef attacked him on Twitter. 
The music, for its part, is bleak, violent and frequently nihilistic, but engaging for its frank representation of life on Chicago's south side (especially as mainstream hip-hop inches toward ubiquitous bottle-popping). Next up to bat for the genre is Lil Durk, who recently plead guilty to a weapons charge in exchange for probation and vows to have an album out by the end of the year.
7. SaveMoney is on the rise here.
It's slightly obnoxious to peg Chicago's drillers against SaveMoney, the nerd-leaning hip-hop crew that birthed Chance the Rapper and Vic Mensa. There are dozens of hip-hop collectives in Chicago, and these two have little directly do with each other. But in many ways, SaveMoney is the antithesis of drill — in their aversion to violence, their heady lyrics, their complexly layered beats and their general sunniness.
8. We have a great blog to track it all.
I've trumpeted Chicago hip-hop blog Fake Shore Drive's praises in the past, but it bears repeating: On top of covering Chicago's gush of mixtapes at a mind-boggling rate, Andrew Barber and his band of hip-hop heads regularly kick out exclusive video content and book some of the best shows in town. Without them, Chicago rap lovers would be buying mixtapes off the dudes slinging them curbside downtown.