Soccer's Greatest Character Is Back Where He Belongs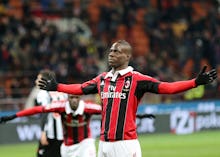 For many people, professional sports is a serious business and should be taken seriously, especially by those who are taking part. Don't these young men and women — rich, talented and doing for a living what others have to squeeze into their few spare hours of the week — know how lucky they are? In a sporting culture where hard work, dedication and focus are eulogized every day, we don't seem to have time for intermittent genius anymore, or the star player who doesn't appear to take his team's fortunes as seriously as its fans do.
No one could be further from this culture of seriousness than Italian soccer player Mario Balotelli, whose move back to the English Premier League — joining Liverpool from AC Milan for about $26.6 million — was widely reported Thursday. He can be infuriating. Balotelli can sulk — on and off the field — and get red-carded acting in a petulant way. And he's been known to use a little too much force to question his coach's decisions during practice.
Despite all this, he's one of the most eccentric characters in sports and certainly the most outsized personality in soccer. If he can be immature and rash on the field, in his personal life this manifests itself as a child-like innocence that you can't help but warm to. After Balotelli moved to England to join Manchester City in 2010, the tabloid stories about his antics were so frequent and outlandish that myth and reality became impossible to separate. Did he really walk around Manchester one Christmas dressed as Santa Claus handing out money? (No.) When asked by police why he had £5,000 in cash in his car after crashing it, did he really reply "because I am rich"? (Maybe.) He definitely caused a fire at his home in 2011 by setting off fireworks in his bathroom, though, and even sits down for the occasional interview with musicians who last made a good record in the mid-'90s.
(The Genghis Khan quote he had tattooed to his chest? 100% real.)
Source: @janbolatkh
But he's about more than just a zany lifestyle. He conducts himself in a way that other modern soccer players — who are media-trained to within an inch of their lives — wouldn't dare to. In April, for example, he overheard former pros working post-game for the Sky Italia TV network criticizing him after a 2-0 loss to Roma. Instead of obeying the professional norm and keeping quiet, Balotelli went on live TV to tell Zvonimir Boban, Giancarlo Marocchi and Christian Panucci, to their faces, that they did not "understand anything about football".
Born in Sicily to Ghanaian immigrants, Balotelli was fostered by a white family from the age of three. In a country that still has huge problems with racism, Balotelli has been dealt a great deal of racial abuse, even from his country's own fans at a national team training camp. The dignified and thoughtful way that he's dealt with repeated incidents of racism towards him has changed many people's perceptions of his personality.
With all this going on, it's sometimes easy to forget that Balotelli is still a supremely talented soccer player. Since moving to Milan from Manchester City in January 2013, he's scored 30 times in 54 appearances. His penalty taking is arguably the best in the game. And, at Euro 2012, he eliminated Germany from the competition with a goal that showed off his trademark power and taste for the dramatic.
Liverpool looks like a great move for him. With Luis Suarez gone to Barcelona, the Anfield club is in desperate need of a leading striker. And in contrast to his time at City — when he was competing for a starting spot with Sergio Aguero, Edin Dzeko, Carlos Tevez and others — he'll be the main man at Liverpool. Some might say that Liverpool are merely swapping one troublesome striker for another, but none of Balotelli's minor misdemeanors come anywhere near Suarez's track record of biting three separate opponents and racially abusing another. If manager Brendan Rodgers can embrace the madness, Liverpool might be where we see Balotelli at his best.