Read James Foley's Heartbreaking Final Letter to His Family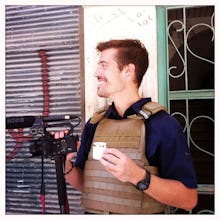 The world was appalled by the beheading of James Foley, an American photojournalist missing in Syria since 2012, by the Islamic State. But thanks to the efforts of a fellow hostage, the bloody video of Foley's death won't be the world's last memory of the journalist.
We're not sure if this is Foley's last communication to his parents: his captors kept Foley mobile to avoid rescue attempts by the U.S., and the circumstances of his captivity and execution still remain unclear.