All Hail Lorde, the First Female to Ever Win Best Rock Video at the VMAs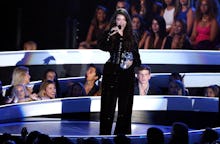 The 2014 MTV VMAs featured so many incredibly talented women that we almost forgot there were any men there at all (sorry, Usher). But who was the highest-achieving lady of the night? You could argue it wasn't Beyoncé, who took home the Video Vanguard Award, or Nicki Minaj, who hit the stage multiple times in what was clearly her best VMAs appearance ever.
No, it was 17-year-old Lorde, who became the first female to ever win Best Rock Video at the VMAs. The "Royals" singer beat out Linkin Park, Imagine Dragons, the Black Keys and Arctic Monkeys for her Moonman trophy, which she accepted in the down-to-earth, gracious manner we've come to expect from her.
"Get More: 2014 VMA, Artists.MTV, Music
Let us count the ways we love her.
"Is there like a specific place I'm supposed to be looking?" she asked (probably just as we would) when she took the stage. Then she made sure to thank "my friends from school, who were in the video," reminding us just how young she is. And she had the biggest, not-jaded-in-the-slightest smile on her face, adorned with that punky purple lipstick we've grown to love.
It took 30 years for the VMAs to honor a female winner in the rock video category. We couldn't think of a more deserving girl to make MTV history. Watch her acceptance in the video above.