One Year Since the 'Breaking Bad' Finale, Here's What's Happened to Albuquerque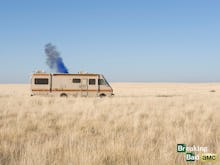 Now that the show is over and the awards have been doled out, Breaking Bad has officially cemented its position as one of the most celebrated TV dramas of all time. But there is one star of the show getting awarded in a different way. Albuquerque, where the show is set and filmed, has become a new location hotspot for Hollywood thanks to Breaking Bad. 
While you may know and recognize Albuquerque as the backdrop for Walter White's monopoly of the meth industry (or because it's where Bugs Bunny forgot to turn left), you may not have recognized the more subtle ways the New Mexico city has served as the backdrop for Hollywood films of late, like being the main filming location for The Avengers. Because of Breaking Bad, Albuquerque has transitioned from underdog to heavyweight contender for location scouts, all thanks to shrewd changes to their reimbursement plans and an abundance of exciting locations within the city.
Ann Lerner, a staff member at the Albuquerque Film Office, is convinced the city is on its way to becoming a major filming spot in the United States.
"Albuquerque can double for many different places," she told Mic in an interview. "Right now I'm downtown — downtown right? — but I can see the desert from my window, and if I turned the other way and there was a hole in the wall, I could see a mountain that rises 10,600 feet."
This spectrum of environments has led to Albuquerque becoming home to more projects: The Messengers, just picked up by CBS, is shot there, and the comedy Captain Fantastic will also begin filming there soon.
According to Lerner, the new TV show Manhattan just wrapped in the city, and the new movie Sicario, starring Josh Brolin, Benicio Del Toro and Emily Blunt is currently on the go. Albuquerque also became the shooting location for the new show Dig, which filmed its pilot in Jerusalem but found it needed a safer spot to call home after it was picked up. And, of course, Breaking Bad spin-off Better Call Saul is engaging in top secret filming around the city.
Image Credit: Facebook
This influx of TV and film production might have been more of a slow trickle if it weren't for Breaking Bad. In 2013, New Mexico Gov. Susana Martinez signed the Breaking Bad bill into law, increasing subsidies for television crews from 25% to 30% in some areas of expenditure. The increase in tourism produced by Breaking Bad already filming in the city, the Hollywood Reporter posits, was a major factor in the success of the bill, hence its name.
While other states may offer more comprehensive or attractive tax breaks and returns for film crews, Lerner said New Mexico was the first to introduce initiatives for production teams. In 2002, the first incentives for production teams were introduced in New Mexico by then-Gov. Gary Johnson, followed by incentives in Louisiana.
The tourism component of this new Hollywood status is being embraced whole-heartedly in Albuquerque. Other cities have not as readily embraced cult TV shows — like Baltimore and The Wire — as generators of tourism; but Albuquerque continues to host multiple tours based on locations from Breaking Bad, which sell out in minutes. One takes place in a version of the RV meth lab from the AMC show. Another, the ABQ Trolley Co., offers tours with snippets of multiple productions filmed in the city.
Those two companies are far from the only ones. In a New York Times piece that focused on the tourist trade during Breaking Bad's run on TV, a local businesswoman made a name for herself selling bags of candy designed to look like meth. There's also a company called Bathing Bad that Lerner explained sells "little blue crystals but for your bath."
Albuquerque isn't the only non-Hollywood city to make good in the film industry. Television shows have been filmed in Wilmington, N.C., for years, and Atlanta has proved itself the perfect spot for filming all kinds of big-budget projects. Detroit, too, has also found some increased interest with Jim Jarmusch's Only Lovers Left Alive acting as a love letter to the brow-beaten metropolis, and Batman v Superman: Dawn of Justice is currently being shot there. The Los Angeles Times also reported that New York City, thanks to improved tax breaks, is also seeing a record number of projects filming in the city as well as being set there.
But Albuquerque has proved itself a real competitor, and Lerner and her team have already received a great deal of praise for helping make the city a filmmaker's dream location. The Location Managers Guild of America recently awarded the film office the award for Outstanding Film Commission for their work on Breaking Bad and Lone Survivor — a good sign for the area's growth.
Lerner couldn't be more excited for what this means for the area: "People around the world can spell Albuquerque now."