If Marvel Drew Male Superheroes the Same Way It Draws Female Ones, Here's How Absurd It Would Look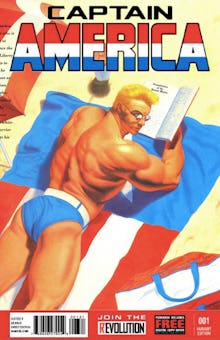 Last week, Marvel invoked the ire of the Internet when it released a hypersexualized variant cover for Spider-Woman #1. The cover, drawn by artist Milo Manara, showed Spider-Woman crouching in a ridiculously tight outfit with her butt thrust high into the air.
In an industry notorious for its sexist treatment of both female characters and female fans, it's probably not the best idea to depict a superheroine in a pose that, as The Mary Sue points out, is "almost identical to one Manara already drew in his Italian erotic comic book." Spider-Woman's blatant pornification didn't sit well with comics fans who are tired of seeing their female heroes unapologetically turned into sex objects.
One such fan is Comic Books Resources' Brett White. In an effort to complicate the all-too-common "notion that women only exist to titillate straight men," the writer and co-host of the podcast "Matt & Brett Love Comics" decided to give male superheroes some sexy variant covers of their very own.
As White points out in his introduction to the images, the issue isn't with sexiness itself; rather, it's with the fact that female superheroes — and women more generally — are disproportionately subject to sexualization in a way that men and male characters are not.
As White writes:
What if Marvel released sexy variant covers for every comic they released? Why couldn't "Magneto" #1 feature the master of magnetism in a brokeback pose with a come hither look? ... Sexiness isn't inherently a bad thing (whether or not comics ostensibly aimed at an all-ages audience even need sexy covers is a whole other issue), it just needs to be an equal thing.
White re-imagined old "Marvel Swimsuit Specials" in modern comic costumes in order to create his alternative covers. While the "images aren't quite sexualized in the same way as the 'Spider-Woman' ones are," he notes, "they illustrate my point that we never see covers like these, covers where the men show a lot of skin, on the stands. Maybe it's time that changed."
Check out White's artwork below, where he gives male superheroes the pin-up treatment:
Photo source: Brett White/Lou Harrison/Tumblr
Photo source: Brett White/Cindy Martin/Arthur Nichols/Tom Smith/Tumblr
Photo source: Brett White/Joe Quesada/Tom Palmer/Tom Smith/Tumblr
Photo source: Brett White/Tom Morgan/Tom Smith/Tumblr
Photo source: Brett White/Gary Barker/Jimmy Palmiotti/Tom Smith/Tumblr
Check out the rest of the images over at the Comic Book Resources website or Brett White's Tumblr.
Correction: April 1, 2016