The NFL Changes Its Domestic Abuse Policy — But It's Too Little, Too Late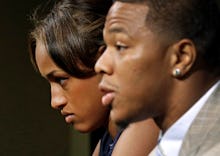 On Thursday, NFL commissioner Roger Goodell announced changes to the league's domestic violence policy in a letter to all 32 team owners.
The reaction among football insiders has been mostly positive. But before anyone goes out of the way to congratulate the NFL for deciding it cares about women (kind of, sort of), let's consider the string of high-profile incidents that led to Thursday's pivot and rare mea culpa by Goodell.
There was Ray Rice, the Baltimore Ravens scatback who knocked his fiancée unconscious on camera in a casino, earning a two-game suspension. 
Greg Hardy of the Carolina Panthers assaulted his girlfriend while in possession of multiple automatic rifles. Daryl Washington of the Arizona Cardinals broke the mother of his child's collarbone in a dispute. 
Given the timeline and the league's hesitence to take action, it's hard to tell whether the NFL took a stand against domestic violence or was simply left with no alternative from a public-relations standpoint?
Incidentally, Thursday's news came one day after Josh Gordon's full-year suspension for marijuana was upheld. After failing his third drug test, the star wide receiver for the Cleveland Browns will be forced to sit out an entire season, per the NFL's substance abuse policy. In addition to time off the field, Gordon will lose $1,335,412 in salary, the equivalent to the fine for possessing 3,560 kilograms of marijuana in Ohio.
But not all failed tests are created equal. The NFL limit for marijuana is 15 ng/ml (nanograms per millileter). Gordon's failed test? 16 ng/ml. His B sample from the same test, one of at least 10 per week he had to take, was 13.5 ng/ml. Incredibly, the NFL's limit is 10 times the threshold of the World Anti-Doping Agency, which oversees Olympic drug testing.
A limit is a limit, and per the NFL's collective bargaining agreement, Gordon failed the test. No one should pity Gordon for the situation in which he found himself.
But even considering Thursday's sweeping changes to the NFL's domestic-violence policy, it's not immediately clear the NFL's perspective on crime and punishment is any better today than yesterday.