How CiCi Bellis Won by Losing at the U.S. Open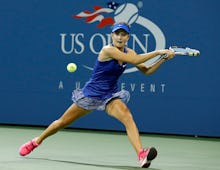 It was 7:52 p.m. when Catherine Cartan "CiCi" Bellis emerged from the tunnel for her first match since becoming the youngest girl in 18 years to advance past the first round at the U.S. Open. The 15-year-old from Atherton, Calif., wore the same royal blue kit she'd chosen for Tuesday's tour-level debut and a charm necklace, a gift from a friend, that's proven good luck over her last few tournaments.
The lines for entry to Court 17 — the intimate, 2,800-seat stadium with no reserved seating where Bellis was due to face Kazakh comer Zarina Diyas — had stretched hundreds deep for hours. Most would never get in. Some fans had reportedly turned up as early as 10 a.m. at the first-come-first-serve arena for a chance to see the teenage phenom from the heart of Silicon Valley, who in two days had gone from virtual unknown to the women's tour's most buzzworthy startup.
Then, before a positively electric atmosphere (say nothing of the national TV audience), the match began. Diyas, a 20-year-old power-baseliner who's climbed to No. 48 in the rankings from No. 196 this time last year, won eight of the first nine points. Bellis looked nervous and tight, mistiming groundstrokes she'd pounded into the corners for winners on Tuesday. She dropped 11 of the last 13 points to fritter away the first set. 
The teenager showed great heart to rally back in the second, putting more pace on her forehand and limiting her unforced errors (13, down from 22 in the first). Feeding off the partisan crowd, Bellis remarkably won the set at love, though many of the games were hard-won marathons that pushed her shotmaking to its limits.
Image Credit: Getty Images
Experience prevailed in the deciding frame. Bellis seemed to abandon her game plan as the match slipped out of reach, trying to outhit her opponent and spraying balls wide that had painted the lines during Tuesday's win. Diyas, a disciplined player who doesn't make many mistakes, committed just seven unforced errors in the set. The final scoreline: 6-3, 0-6, 6-2.
Bellis, in the post-match press conference, was bummed out. She bemoaned her missed chances and error-strewn play. What she described as "the best couple days of my life" had come to an abrupt end.
But after watching the hype train accelerate to breakneck speed over the past 48 hours, there was only one reasonable conclusion.
This was probably for the best.
These are desperate times for American tennis. Serena, at 33, is still on top and Venus, 34, remains a dangerous floater, but the hand-wringing over who will step up when the Williamses retire has been ongoing for years — and it hasn't exactly been conducive to building up the next generation. Unrealistic expectations, so easily stoked by breakout performances at Grand Slams, engender pressure that can prove unbearable.
Uneasy lies the head that wears of the crown of America's next tennis hope. Just ask Melanie Oudin, the sunny Georgia native who made national headlines during a charmed run to the last eight of the 2009 U.S. Open, when she was 17. Television appearances and endorsement deals ensued. She's since gone 124-123 in singles matches, dropped as low as No. 186 in the rankings and, at 22, has worn that quarterfinal appearance like a millstone.
A more immediate case study is Sloane Stephens, who was 19 when she upset Serena to advance into last year's Australian Open semifinals. It was the first of six consecutive majors where Stephens played into the second week — a tour-best streak at the time — but the 21-year-old was bounced in the first round at Wimbledon in June and crashed out in the second round here on Wednesday, dropping her singles record for the year to 20-18. The patronizing press conference that followed was like chum in the water.
"By every account Stephens is good-natured and insightful," one New York Times columnist wrote in Thursday's paper, "but since the win over Williams, she has come off as the young player spoiled by modest success — fruit picked before its time."
This, about a young woman who'd been feted as "unquestionably the leader of this promising generation of players from the United States" by the same pub. Talk about a sport that eats its young.
Bellis' inspired win Tuesday — over Australian Open runner-up Dominika Cibulkova, who is ranked 12th in the world — sparked the onset of a familar process. A VICE Sports columnist wrote that Bellis should keep her $60,420 in prize money — which she plans to forfeit to retain her college eligibility — and sue the NCAA. A roundtable discussion Thursday among former tennis pros on U.S. Open Radio, the tournament's on-site station, turned into a discussion of Bellis' affluent background and whether American players — and by the transitive property CiCi herself — are "too comfortable" to be great champions.
This, of course, is business as usual in the news industry, where current events are leveraged as pegs to crystallize broader issues. Yet our compulsion to identify the Next Big Thing often poisons the well. The prizefighter Bernard Hopkins attributes this self-defeating trait to our "microwave society" — a willingness to forgo patience and development to preordain the new moneymaker. "That's why you see so many young fighters get knocked out," Hopkins sermonized a few years ago. "They don't have a chance to become that sweet peach on the tree. They get picked too soon. You taste that peach and it's bitter. It wasn't ripe."
Better that Bellis was spared the media frenzy of a deep U.S. Open run at 15, that her feel-good story won't be co-opted to serve unrelated agendas, that the inevitable deluge of #HotSportsTakes will die on the vine, that TMZ won't be waiting at SFO upon her return. She didn't make it far enough to warrant any of that. But she did stick around long enough to know she's got what it takes to play at the top level.
Now Bellis can turn her focus to the U.S. Open girls' tournament, which begins here Sunday. As the No. 2-ranked junior in the world, expectations were already high. Even more so now, though she insists her spell in the big leagues will only embolden her.
More importantly, Bellis can work to develop her clearly formidable skills and shore up her weaknesses outside the spotlight, unburdened by scrutiny. She said Thursday she's already looking forward to getting back to training, where she can work on improving the consistency her groundstrokes and making her serve more of a weapon.
There's no doubt Bellis wishes she'd progressed to Saturday's third round, but it says here she's better off avoiding the snake pit that awaited — at least for another year or two.
Heaven knows time is on her side.