Beyoncé Can Now Add Poet to Her Epic List of Skills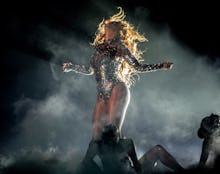 Beyoncé has officially added poet to her roster of skills. Collaborating with Pulitzer Prize nominee Forrest Gander, she turned a fall CR Fashion Book feature into a poem called "Bey the Light." It's an interesting choice for a woman who has the eyes of the entire world on her and an illuminating read, especially because it continues a confusing, if intriguing, theme of martyrdom and insignificance in her self-projection.
The poem weaves together several topics — Beyoncé's faith, her stage persona Sasha Fierce and her position as a role model and a mother. It also gives a window into the serious side that Beyoncé is consciously cultivating. If a poem is meant to shed light on inner workings, these are the inner workings Beyoncé has decided she wants the world to see.
The poem begins with Blue Ivy as her muse, and ends with her hopes for the world her daughter lives in: one that is not perfect, but is constructive and supportive.
Utopias, they don't much interest me.
Then she moves onto her faith, putting the media and religion at odds very quickly when she talks about a "TV preacher" who "promised he'd say a prayer / if I put my hand to the TV." With the enjambment between verses, she creates a self-aware punchline; a religious TV experience less as a conduit for religion and more a marketing ploy to boost viewers. 
She also talks about herself as the vessel for emotions that draw her listeners together, and although her voice helps soothe these pains, she herself seems to stand as a passive martyr to these feelings. This disconnect also shows her reliance on Sasha Fierce onstage and in real life:
I learned at a very young age,
In all these moments, Beyoncé admits to not being quite there, or at least not being able to fully connect. She places herself as an agent of other powers, a blessed individual who is helped by her child, her faith and her alter-ego and hopes these powers can change the world. 
It's an interesting change from the woman we saw at the VMAs, who self-confidently told the audience: "Welcome to my world." It's also not the first time Beyoncé has used poetry to express herself: her song "Flawless" features an incredibly poetic speech from writer Chimamanda Ngozi Adichie, she made a picture poem in support of Frank Ocean after her came out, and of course songwriting is a form of poetry in and of itself. 
Image Credit: Tumblr
"Bey the Light" is of course a calculated move, but it's one that should give us hope in the age of Beyoncé as the active feminist. This poem is filled with pride and self-awareness that as a mother her job is to build a better world for her daughter, as a singer her job is to heal, and as a celebrity she's made the choice to inspire.  
Since Blue Ivy was born, Beyoncé's music has been instilled with a more feminist verve. She has written feminist essays, and she has taken up the mantle of feminism she was once hesitant to accept. If this poem says anything, it is that Beyoncé is ready to keep making change for greater goods than herself. Considering her position on top of the world, she could do anything with this power. The direction she's steering the ship is an incredibly exciting one. 
"Bey the Light" 
It's my daughter, she's my biggest muse.
I feel a deep bond with young children —
Children I've met across the years —
I'm turned to spirits, the emotions of others.
I learned at a very young age,
Though we're different as blue and red,
I saw a TV preacher when I was scared,
If I put my hand to the TV.
You call me a singer, but I'm called to transform,
I'm a vessel for all that isn't right,
To let go of pain that people can't bear.
Utopias, they don't much interest me.
But for my daughter I dream a day