The Internet Raised Nearly $100,000 for the Gay Teen Who Got Disowned by His Parents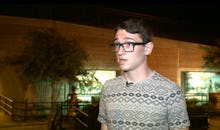 The bad news: As Mic reported last week, a 19-year-old college student from Kennesaw, Ga., recently endured what no gay teenager ever should — emotional and physical abuse at the hands of unsupportive parents, whose hatred and bigotry led them to carelessly throw their son out of the only home he's ever known.
"I was basically beaten and thrown from my home of 19 years. They took everything, including my college text books," he said in an online posting.
The good news: But it wasn't long before a broader, global community responded in a major way to the story of Daniel Pierce, one that's sadly still a reality for thousands of LGBT youth in America.
While Pierce's haunting video recording of the confrontation went viral this week, his boyfriend set up a $2,000 crowdfunding campaign as a desperate plea for strangers around the world to help Pierce continue his college education, afford basic living expenses and ensure he'd still be able to survive without his parents' longtime support.
And his supporters, from near and far, moved by his story and determination to continue moving forward, have gone above and beyond the call of duty — raising nearly $100,000 in a strong show of solidarity with abused and homeless LGBT youth.
Image Credit: Daniel Pierce via Go Fund Me
The incident: Pierce came out almost a year ago to his parents and insists that this wasn't a "coming out" video. But he set up a recording device once it was clear that his stepmother, father and grandparents would attempt to stage a "pray the gay away" intervention, and prepared for the worst. Pierce asked his otherwise supportive aunt to keep her phone close in case he needed support — and, for now, she's providing him with safe shelter. 
As reported by the Advocate, Pierce's aunt went to whisk her nephew away after receiving a frantic text for help from Pierce who, upon her arrival, approached her with a split lip — he'd been attacked by his father during a fit of rage, which included an all-out debasement filled with homophobic insults and prayerful hopes that Pierce would somehow change.
"I will not let people believe that I condone what you do," his stepmother said, with his father adding, "You're a disgrace ... unfortunately, I'm sorry to say that you are." 
(Warning: Sensitive content)
The aftermath: Pierce told local reporters that, one day, he hopes his parents can support him in the way that some others, including people who will never meet the Georgia teen, have opted to do instead. He hasn't talked to his parents since they kicked him out of the house, a situation Pierce knows is all too familiar for other gay teens like him.
"It still happens. A lot of people don't realize that it happens. They see all the positive videos and the negative ones never get seen," he said. "So if one family changes their mind about how they handle their son or daughter coming out — if one family changes their mind — I would be happy." 
Image Credit: 11Alive.com
The takeaway: And even in his own time of despair and intense turmoil, as the teen likely grieves a frayed relationship with his parents, Pierce has decided to pay it forward — by donating a portion of the donated funds to other LGBT organizations who serve young people like him.
"I do plan on giving a certain percentage to the cause," Pierce told the local NBC affiliate, expressing gratitude for the immense outpouring of support. "I want to help kids that are in the same situation as me ... All of this was a huge surprise to [m]e and I am so blessed."
The public's strong response to Pierce's story underscores the indisputable fact that all children — regardless of their gender or sexuality — deserve a loving, supportive community in which they can survive and thrive. With Pierce sharing his struggle, even giving back in the process, hopefully thousands others' hearts will be less hardened towards LGBT youth in the future.