Ariana Grande's Big Brother Made the Most Disgusting Rape Joke on Reality TV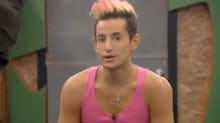 Updated: Sept. 2, 2014, 3:30 p.m. — An image originally included in the below article has been removed due to its graphic nature within the context of a disturbing viral hashtag.
Rape is never, ever a laughing matter under any circumstance. But apparently Frankie Grande never quite got that memo. 
The Big Brother 16 contestant and brother of pop singer Ariana Grande just caused one huge problem for the family of one of his female housemates — all of whom watched in horror as he apparently joked about her being drunkenly gang raped by two other men on the reality competition show.
Despite protests from a female contestant, he quipped, with a grin, "I think you both should double team her. I think you should take all of her virginities in one night. All of them."
Yes, this is what rape culture sounds like. Grande just presented a double whammy of glorifying violence against women while articulating the viciously abusive, misogynist logic that rolls through the minds and out of the mouths of rapists.
The openly gay Broadway actor's perverse remarks came right after fellow housemate Christine Brecht kindly asked the men in the room to not make sexual advances on the "very feisty" 22-year-old Victoria Rafaeli — who was absent during a conversation about the upcoming night of alcohol-fueled fun and games.
But that didn't stop Grande from taking the so-called joke even one disturbing step further. He said that if, somehow, the male duo got caught, he'd help them disguise their identities by using drag costume tricks: "If you guys somehow got arr ... you know, I could throw on [you] some make up." 
Just because Grande is an openly gay man doesn't excuse away his perpetuation of rape culture. Abuser dynamics also run rampant in gay relationships and other casual dating encounters.
In fact, the 31-year-old's juvenile jest mirrors that of the rapists in the 2012 Steubenville case, and in the more recent memeification of 16-year-old Jada — a young woman who was gang raped at a friend's home and photographed as she lay unconscious. The photo went viral, but only to be lampooned in the hashtag #Jadapose.
But Jada decided to take a stand against her rapists and the people who made humor out of the violence committed against her. By speaking up about her story and starting a counter-campaign to raise awareness, the hashtag #IAmJada educated many about the horrors of rape culture.
If only more resources and air time could be given to consent education — in schools, in the media and in everyday dialogues between men — we wouldn't have men like Grande carrying on as though sex without consent (read: rape) is worthy of a wisecrack. And there would've been no need for a group of men at North Carolina State University to invent an "anti-rape nail polish" being marketed to help women detect when their drink has been spiked with date-rape drugs.
Image Credit: Wikimedia Commons
As Mic's Julianne Ross wrote about the issue, "Truly curbing rape means addressing the myriad cultural forces that lead to sexual violence in the first place, as well as the systemic injustices that allow it to so often go unpunished."
That very sentiment resonates with Victoria Rafaeli's family, who not only wants an apology from Frankie, but also his much more famous sister, Ariana. Rafaeli's mother told TMZ that she fears for her daughter's safety because she's now a "target for rape." Clearly, her family seeks accountability, even though CBS executives show no sign yet of sanctioning Grande's disgusting remarks.
"I want Frankie to imagine people saying this stuff about his sister and see if he thinks it's funny," said Rafaeli's mother, Lizabeth, according to TMZ.
Fortunately, the other men in the room pushed back against Grande, albeit lightly, calling the conversation "foul" and "inappropriate," with one of them asking for it to end immediately. 
But despite nervous laughter and pleas from other house guests to discontinue his offensive jestering, Grande went on to put both of his hands in the air as though they were guns — phallic objects — screaming while licking the edges while making penetrative motions in the air. 
Image Credit: TMZ via CBS
Maybe, at some point, Grande will understand why he needs to carefully reexamine how he's come to understand consensual sex versus rape and — even as a homosexual — learn to check his male privilege right where it belongs: At the door of the Big Brother house. 
Updated: Sept. 2, 2014, 3:30 p.m. — An earlier version of this article included an image of one unidentified social media user who participated in the disturbing hashtag #Jadapose. The image has been removed due to its graphic nature.