The Islamic State Claims It Has Executed Another American Journalist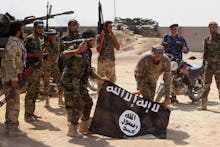 The Islamic State has released a brief video that allegedly shows the beheading of American journalist Steven Sotloff, according to SITE Intelligence Group.
Reuters reports that the executioner "appeared to be the same British-accented man who appeared in an Aug. 19 video showing the killing of American journalist James Foley, and it showed a similar desert setting." 
"I'm back, Obama, and I'm back because of your arrogant foreign policy towards the Islamic State, because of your insistence on continuing your bombings and ... on Mosul Dam, despite our serious warnings," the man said.
A British hostage also reportedly appears in the video, identified as David Haines.
Sotloff's mother issued a direct plea last week to the Islamic State's leader to spare her son's life. "My son Steven is in your hands," she said. "You, the caliph, can grant amnesty. I ask you please to release my child. I ask you to use your authority to spare his life."
In August, President Obama said the world was "appalled" by the brutal death of Foley. "ISIL has no ideology of any value to human beings," Obama said. "They have rampaged across cities and villages, killing innocent unarmed civilians in acts of cowardly violence. ... No just God would stand for what they did yesterday and what they do every single day."