An Ex-Stripper Is Tearing Down Myths About Sexuality With the Catchiest Pop Songs of Fall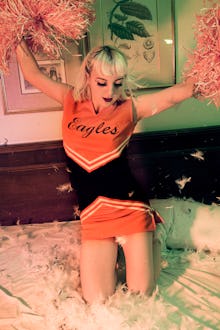 Some artists work in retail or pick up office jobs while pursuing their musical ambitions. Pop singer Lowell spent some time as a stripper in Canada to do the same. A lot of singers might cover up that past on the journey to stardom, but when Lowell's album We Loved Her Dearly dropped via NPR's First Listen on Monday, it became immediately obvious that she has nothing to hide.
This is one of the catchiest and most powerfully honest pop albums of the year. Twenty-two-year-old Lowell (full name Elizabeth Lowell Boland) has a strong autobiographical and political voice, earned in the hard years after she dropped out of the University of Toronto and found herself manipulated into working as a stripper. It was hard, but she gained control of her life and began writing music.
Lowell saw stripping as a way towards art rather than a lifelong trap. "I like to think my music tastefully blends politics and pop," she said to NPR. "I don't think there's anything wrong with using sex to empower yourself, if you are comfortable with that," she told Rolling Stone. "What drives me now, more than the pop star spotlight bullshit, is trying to be a positive influence in people's lives. I want to share a story that hopefully somebody somewhere can relate to and feel stronger because of it."
Her commitment to uplifting honesty broadens her work far beyond simply recounting her past as a stripper. For instance, her new single, "LGBT," rises to a triumphant and bubbly chorus of "Why are you afraid of how I feel? L-G-B-T, L-O-V-E, oho, don't hate our love" against hard-hitting lines like "They never choose who they like, so they like me dead." Therein lies Lowell's brilliance. Her effect is multidimensional: flippant and witty, capable of making activism sound fun even as she proves that the issues are brutally real, something that she, as an openly bisexual woman, knows all too well.
Of course, Lowell wouldn't be a pop star in 2014 if she didn't have stunning visuals to match her incredible music. To date, she's released one video, for "The Bells," which is a horror movie twist on the sexualized schoolgirl, a la Britney Spears' "...Baby One More Time" (which apparently shares the same BPM and can be overlaid with the song; Lowell's done it and recommends it). The video is a haunting play on a popular fantasy, an empowering reminder of the strange ways sexuality manifests in our culture.
She's been doing that sort of essential work since her brilliant 2013 EP, I Killed Sarah V. (Sarah Victoria was her name when she was a dancer). She told Rolling Stone, "There can be something really empowering about [stripping]. It doesn't have to be bad. But by making it taboo, we alienate these girls and allow this victimization to happen."
It's important to bring those kinds of ideas into the mainstream. Activist, trans rights advocate and former sex worker Janet Mock put it best: "Sex workers are often dismissed, causing even the most liberal folk to dehumanize, devalue and demean women who are engaged in the sex trades. This pervasive dehumanization of women in the sex trades leads many to ignore the silencing, brutality, policing, criminalization and violence sex workers face, even blaming them for being utterly damaged, promiscuous, and unworthy." Mock also reminds us that for many poor women, especially women of color or queer women, sometimes one's body is the only available asset, that sex work is often an "underground railroad of resources."
The top three songs in America right now feature women defining and reclaiming their own body images and sexuality. This may be Lowell's season to get her story out. Her songs are anthemic, catchy and steeped in the complex understanding of sexual and gendered dynamics she learned through her time as a stripper. This is the kind of music we need.