The Next Great Female Superhero Might Not Be on the Big Screen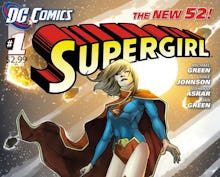 Great news, comics fans! There is a new Supergirl television show in the works. 
According to the Hollywood Reporter, the series is being developed by Ali Adler and Greg Berlanti, the co-creator and executive producer, respectively, behind the CW's Arrow and upcoming The Flash. Deadline also reports that Adler will write the script, which they're calling "a new interpretation of the Supergirl character and her story," and that the series may be titled either Super or Girl. The show is helmed by Warner Bros. TV and likely will be pitched to major networks over the coming weeks.
The planned series is especially notable at a time when the film industry continues to bristle at female-driven franchises. Despite the success of projects like The Hunger Games, Frozen and Lucy proving beyond a doubt that women's stories can dominate at the box office, we have yet to see a modern superheroine franchise come to fruition on the big screen from comic giants DC or Marvel. Instead, kickass women of films like The Avengers and Guardians of the Galaxy are still often sidelined in male character's stories. 
Earlier this summer, Marvel Studios president Kevin Fiege addressed this issue, telling Comic Book Resources that he "very much believe[s]" in giving a superheroine her own movie, but was noncommital when it came to divulging any solid plans for future projects, simply saying, "I hope we do it sooner rather than later." 
Television, on the other hand, has been more receptive to stories anchored by female leads for some time now. From Buffy the Vampire Slayer, to Scandal, to Veep, to Orange Is the New Black, female characters are getting to star in a genuinely exciting variety of stories on the small screen.
It's well past time that a comic book heroine get to tell her own story, too. We hope that Supergirl, a character was first created by DC Comics in 1959, will finally do just that.
UPDATE, 9/19/14: According to Verge, CBS has put in an order for the series one day after it was taken to the networks. No word yet on when the series will air, but Deadline indicates the CBS commitment was larger than the Fox commitment to Gotham.