This Gorgeous Model Just Made Fashion Week History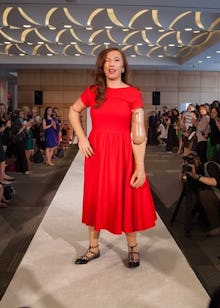 Carrie Hammer, a designer from New York who prides herself on using "Role Models, Not Runway Models," has made fashion week history by booking a quadruple amputee in her fall collection show on Friday.
The designer, who first made headlines after booking Danielle Sheypuk to model in a wheelchair down her New York Fashion Week runway this past spring, is in the spotlight once again; this time it's for producing a show with a quadruple amputee, a first, according to the designer. 
Image Credit: Danielle Sheypuk via Instagram
Karen Crespo, 31, lost all four of her limbs following a tough battle with bacterial meningitis. Adding insult to injury, Crespo also had to deal with the loss of $100,000 worth of prosthetics stolen from her porch. 
After seeing Sheypuk strut her stuff in Hammer's previous show, Crespo reached out to the designer to express Hammer's commitment to representing all abilities. It didn't take long for the two women to form a lasting bond. Touched by Crespo's story of resilience and courage, Hammer partnered with Hanger Inc. to build the prostetics she needed. Needless to say, it was life-changing.
Image Credit: Carrie Hammer
In the video below, Crespo notes that the emotional trauma of her condition was much harder to deal with than anything physical she experienced. 
"You see the light at the the end of the tunnel but you can't reach it. It's so far," she said. Meeting Hammer changed everything, Crespo told TODAY, noting that being part of the show was part of a broader desire to make a difference in the lives of others living with disabilities. "I had no role models, so I wanted to be that for someone. I hope I will be," she says in the clip.
Hammer told Today that the decision to book Crespo was a no-brainer.
"Beauty lies in our differences," she said. "There isn't one slim ideal beauty, but that's what fashion has become all about. My line is all about highlighting the beauty in the differences, and making sure that the women feel confident and beautiful in their individualities."
But Hammer is also quick to point out that her efforts are not about tokenizing. She doesn't actively try to represent all identities, she simply selects women based on their ability to be role models for other women.
"I don't think about 'OK who is black or who is disabled?' I just think: 'Who is awesome?'" she told Mic. "It's not about singling anyone out, but rather about showing that every single person is beautiful." Speaking about her friendship with Presco, Hammer explains that "She's overcome so much" and "What makes her a role model is the fact that she wants to be role model for other people as well." 
Given fashion week's notorious diversity problem, Hammer may just be the pioneer we've all been waiting for.
Image Credit: Carrie Hammer