Ray Rice Fired From Baltimore Ravens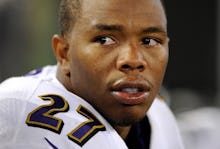 Update, 2:45 pm ET: The NFL just announced that Ray Rice has been suspended indefinitely:
On Monday morning, TMZ released a leaked video of Baltimore Ravens running back Ray Rice's violent attack on his then-fiancée Janay Palmer in February. The brutal video showed Rice knocking Palmer unconscious before dragging her out of an elevator.
This may seem great, but it's more proof that the NFL only addresses issues of domestic violence when faced with overwhelming pressure. As Mic's Ben Bozeman wrote, the NFL's discplinary policy is essentially a joke:
A suspension for party drugs that's twice as harsh as the one Ray Rice received for violentdomestic assault? A suspension for weed that's eight times as harsh? Beyond crazy. The NFL has made this much clear — despite Goodell's pointless and pandering letter to teams saying otherwise, it cares more about punishing players for recreational drug use in the off-season than it does punishing them for domestic abuse.
Hopefully, Rice's departure is a sign that real change may finally be on the way.
UPDATE, 9/9/14: Rice's wife, Janay, responded to the media maelstrom with a plea to leave her and her husband to handle their own lives in private, adding "THIS IS OUR LIFE!"