11-Year-Old Serena Williams Predicts the Future in A Totally Adorable Video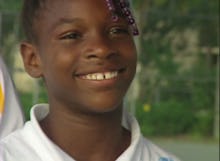 "I'd like others to be like me." 
That's what Serena Jameka Williams said as an 11-year-old aspiring athlete when asked, "If you were a tennis player, who would you want to be like?" And that statement couldn't be more true today, as hundreds of girls all over the world work to emulate her game, power and charisma. 
Even from a young age, Williams had the bounding confidence and faith that just saw her expand her legacy to include an 18th Grand Slam singles title at the U.S. Open.
More than two decades ago, when IMG Media's Trans World Sport traveled to the United States to film Venus and Serena Williams, the superstar tennis players were just 12 and 11 years old, practicing in Florida and staying away from competitive tennis.
In the video, their father Richard Williams tells how he wanted tennis to be a ticket out of the Los Angeles-area Compton ghettos for his daughters. He wanted Venus and Serena's dreams of winning at Wimbledon and the U.S. Open to come true so his friends could see their matches from the coveted box seats and know that anything is possible.
Richard Williams said he decided to make tennis players out of his daughters when he saw a female player winning a $40,000 check on TV. "I thought, 'I make $56,000 in a year and she gets 40 to play for four days,'" he said. "'I'm surely in the wrong business.'"
Not for some decades now. Serena collected $4 million in prize money with Sunday's win, surpassing $60 million in career earnings, and accepted the victory in the most gracious way. "I never dreamed that I could be compared to Chris Evert and Martina Navratilova," Williams said after she tied them for 18 Slams. "I was just a kid with a dream and a racket living in Compton."
Image Credit: Getty Images
With 18 Slam titles, 13 in doubles and gold medals in three Olympic games, her absolute domination in women's tennis in the last decade is hardly questionable, but her legacy has gone far beyond that. She's being touted as the best female athlete and American tennis player ever, male or female, with more singles titles than Pete Sampras (14), Andre Agassi (eight) and John McEnroe (seven). 
And she's not done. 
"I'm just beginning," she said Sunday with a smile.