You Can Never Trust Yelp Again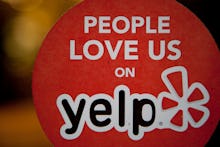 Getty Images
The news: It's long been rumored that Yelp's rating system can be gamed and that negative commenters' anonymity can no longer be protected. But now there's another problem: Yelp is under no obligation to make sure positive reviews appear on the site.
Last week, disgruntled small-business owners who alleged that Yelp withheld five-star reviews to force them to pay advertising fees had their case dismissed by a federal appeals court in San Francisco. And even if the allegations are true, there's nothing illegal about it, according to the court.
"As Yelp has the right to charge for legitimate advertising services, the (alleged) threat of economic harm ... is, at most, hard bargaining," Judge Marsha Berzon wrote in her decision. "By withholding the benefit of these positive reviews, Yelp is withholding a benefit that Yelp makes possible and maintains. It has no obligation to do so, however."
This is bad news for both businesses and consumers. Essentially, the court ruling affirmed that it is within Yelp's rights to determine which reviews end up on a business's page — no matter how arbitrary or insidious the rationale. That means businesses may be hurting if they skip out on Yelp's advertising offer, and that customers can't really be 100% sure if what they're looking at is an accurate reflection of a business's performance, which could mean Yelp reviews are effectively useless. 
"If you had any concern about Yelp's accuracy before, you're going to be up a creek now," Lawrence Murray, the plaintiffs' attorney, told the Wall Street Journal.
"When you have to pay money to keep good reviews up, and when the only thing you see is bad reviews when you don't pay, and Yelp is saying these are real reviews by real people, you're getting harmed," Murray told the local CBS affiliate. "It looks like extortion, smells like extortion and acts like extortion."
Unfortunately, Yelp needs local ad revenue. According to Forbes, local ads constitute 75% of Yelp's stock value and also happen to be the site's biggest source of revenue. 
Yelp is also currently facing a lawsuit from its own shareholders, who have accused the company of misleading them on the quality of its consumer reviews. But even if it clears it legal troubles, it may already be too late for the site to regain its users' trust.