This New Serena Williams Ad Is the Most Inspiring Thing You'll Watch Today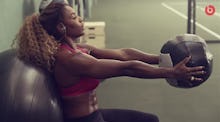 Amid an illustrious tennis career that spans nearly two decades and includes 18 Grand Slam championships, most forget Serena Williams' incredible journey — and how she emerged from the streets of Compton, Calif., to become one of the greatest female athletes of all time. 
It's taken true grit and tenacious determination for Williams to fuel her way through enduring racism on the tour, losing a sister to gun violence, a near-fatal health scare and a smattering of world-class opponents, all in her quest to become the best player in women's tennis. While her dominance on the court is clear — as seen in her rout Sunday of 11th-ranked Caroline Wozniacki to win her third straight U.S. Open title — it's by no means been easy for Williams.
The new ad from Beats by Dre drives that point home, celebrating Williams' relentless pursuit of greatness, one that's rooted in the dream she's had since first picking up a racket with father Richard and sister Venus in Southern California: becoming a U.S. Open champion.
In the video, Williams enters the gym and gets straight to working through her rigorous training routine — all while she reflects on playing tennis as a kid, riding through the streets of Compton and her early dreams of becoming a Grand Slam champion. And as she moves from jumping rope to slinging heavy medicine balls, Williams' intense focus on her athleticism couldn't be clearer, set to the soundtrack of the soaring hip-hop track "Black Unicorn" by 2 Chainz, featuring Sunni Patterson and Chrisette Michele.
"And when you spiral through the atmosphere, all they see is motion. They never see the tears, they never feel the pain," Patterson raps. "I recall, so many never ever thought you'd make it. So sad they were mistaken, the joy they tried to take it. Mama said that 'The best thing you can do and be is you. This world ain't got but one, so give credit where it is due.'"
Image Credit: AP
In a news conference after Sunday's historic win, Williams had a moment to reflect on achieving one of her biggest career goals yet, having equaled two tennis legends for the second-highest number of women's Grand Slam singles titles in the Open era.
"I just could never have imagined that I would be mentioned with Chris Evert or with Martina Navratilova, because I was just a kid with a dream and a racket," the 32-year-old told reporters. "Living in Compton, you know, this never happened before. I just never could have imagined that ... I could have gotten this far."
But indeed, she has. She's only four Grand Slams away from tying Steffi Graf for most major titles in the Open era. And regardless of whether she accomplishes the feat, there's no denying that the tennis world will have been forever changed for the better because of players like Serena Williams.