The Best Hip-Hop Is Living On A Blog You Haven't Read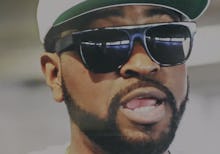 It's never been easier for young artists to get started, but it's harder than ever for them to make it. The popularity and low returns of streaming, the rapid turnover of blog content and the sheer volume of high-quality competition are edging young musicians out, and few genres are suffering more than hip-hop. Always a genre for young talents and underdogs, hip-hop lately has become increasingly overblown and mainstream. But one brilliant new series could change that.
At first glance, the RapFest looks like a normal hip-hop blog, but its core is a video series called Ciphers. Every two weeks, Ciphers pairs up-and-coming rappers hungry for new audiences with established artists that can draw those audiences. Together they create a beat, something more professional than the amateurs can muster and realer than you get from the pros. This is where the best hip-hop is living online — and few people know about it.
For example, for the first video in the series, Delorean, a relatively unknown Houston rapper, goes toe-to-toe with Smoke DZA, a rapper closely affiliated with Wiz Khalifa, Curren$y and Prodigy from Mobb Deep. The man holds his own and then some. They all go in over a beat by amateur producer AListFame, who gets a couple interview spots between verses to talk about how he went about producing the track. "To me it had a Queens feel, needed a Queens rapper," he says. "It's a hard beat. I wanted somebody to some real talk over it, from inside." He got exactly that.
The video offers a fascinating look inside the minds of these four musicians. And the cipher gives a fuller introduction to blazing new talents than random songs on SoundCloud ever could.
The platform's founder, Mave, told Mic he got his inspiration for the project from hip-hop's now ancient mixtape and DVD culture. "When I look at the timeline of urban media, we had a really epic era roughly 2000-2002. I don't know if you remember all the Come Up DVDs, Smack and Coke Boys DVDs … We had a huge group of great artists come out of that. That's where we got our Nicki Minajes, 50 Cents, Waka Flocka, Maino, Max P — all these guys popped up out of nowhere because there was this new platform that allowed us to discover new acts." 
The problem is that when the Internet became the primary mode for sharing and distributing music, no platform arose with it to give listeners this same high-impact look at rising talent. "Consumers are still content-seeking, but there's so much content coming in, you don't have a filter to go through it all and see who's going to break," Mave said. "I wanted to figure out how to create that gap. And I gave it some thought, I really sat back, and I'm like, 'Man, ciphers are dope.'"
The cipher format brings back some of that Golden Age feel to discovering new artists, which is an integral part of the RapFest's mission. "We're bringing back the vintage feel to the culture in that lyrics do matter and what not. And we don't do it in a corny way with guys passing around a mic and whatnot," said Mave. "I'm not one to downplay old school, but some of it's corny, so we gotta do something fresh but still keep the essence." 
The content immediately caught the eye of some big players. RapFest's Cipher series will be airing on MTV Jams, and some of the producers they've introduced to established acts have already been hired for tracks. RapFest is now looking expand their platform further into mixtapes and into the Mean 16, a series of shorter videos featuring even more new talent spitting over reused beats from the main Cipher series. 
By slowing down the release rate and giving each rapper and beat undivided attention, RapFest's content aims to bring the focus back to lyrical and musical quality, which Mave and many others believe rap has lost. Quality is at the very center of the RapFest's mission ­— not industry domination, not million dollar mansions or new Maybachs. "I don't worry about money," said Cheech, Mave's business partner. "I do it because it's a culture thing. This thing is a catalyst for [hip-hop] to shift back to the actual bars. I want to want to memorize your verse. Now nobody says anything, it's just a lot of beef and a hook and a twerk. The lyrics are not the same."
The RapFest may not be able to beat back the tides of hip-hop mediocrity. But for now, every two weeks, they put something great into the world — something that sounds like it might be the start of a new golden age.