Beyoncé and Jay Z Just Released a Short Film, and It's Amazing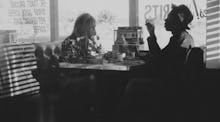 Not only is Beyoncé maybe pregnant again, but she's also starring in a three-part short-film series with her husband. Divorce rumors, be damned. The first installment was released on Monday morning, and it is jaw-droppingly gorgeous.
Beyoncé and Jay Z's On The Run tour officially ended Sunday, which means that those of us who couldn't shell out $150 for a nosebleed seat are about to experience it in a bigger, better way — in the comfort of our living rooms. 
Last month, the couple released a sultry black-and-white clip of Beyoncé singing Jay Z a cabaret version of Nancy Sinatra's "Bang Bang" to announce they would be airing the concert footage on HBO once their tour ended. That clip was part of a much larger film entitled Jay Z and Beyoncé: Bang Bang, which is just now emerging.
The short films were directed by New York-based filmmaker Dikayl Rimmasch, who built his own custom camera rigs and used a 50-year-old, Russian-made lens to get that enticing film-noir aesthetic. The film shows Bey and Jay cruising into a diner in a old-school muscle car. Over an atmospheric meal, the couple spots a suspicious-looking suit peering at them over his newspaper. Intrigue and tension ensue.
"We're not trying to do this literally, it's not that we're Bonnie and Clyde," Jay Z told Nowness, clarifying the meaning behind the thinly veiled allusions. "We're on the run from everything. On the run from becoming a cliché. On the run from doing the same thing again." Given the amour fou aesthetic and advertising of this tour, it's starting to seem like the couple are playing with the widespread divorce rumors they sparked earlier this summer. 
Stay tuned for Parts 2 and 3 of the series, and catch the full On The Run concert on HBO when it airs Sept. 20.
h/t Pitchfork
Update 9/15 -- The original post of this video on Nowness is no longer functioning. The Mic editorial team will update with a new version when one is available.