Ben & Jerry's Just Gave Us the Best Reason to Love Them Yet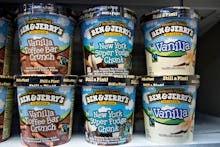 With flavors like "Hubby Hubby" and "I Dough, I Dough" and "EngageMint Party," Ben & Jerry's knows that "love comes in all flavors."
The ice cream giant, long recognized for its progressive social and environmental consciousness, doubled down on its marriage equality stance last week, filing an amicus brief with the Supreme Court to take up marriage equality cases pertaining to state bans in Oklahoma, Utah and Virginia. 
The Vermont-based company's "Employers' Amicus Brief" is essentially a formal legal petition asking that state governments be prohibited from hindering a business's desire to treat its legally married employees in the same way.
"We've signed on with 30 other global and local companies [including Amazon, Target and Viacom] who are fed up with a state-level ban on allowing a legally binding marriage, and all the benefits that go with it," the company notes on its website. 
"This amicus puts these corporations on record saying that in addition to this being an issue of civil rights, it complicates the running of our businesses. It creates this really confusing administrative nightmare for companies — from a tax point of view and from a benefits' point of view."
In other words, Ben & Jerry's argument is that same-sex marriage makes for good — and — efficient business. Not to mention the fact that supporting same-sex marriage, now approved by the majority of the American public, arguably increases the popularity and profits of a business.
There are proven economic benefits of the legality of same-sex marriage: Massachusetts earned $111 million the first four years after same-sex marriage was made legal in 2004; a year after New York passed the Marriage Equality Act, ThinkProgress reported "Gay marriage generated $259 million in economic impact in New York City alone." Texas, on the other hand, has been losing an estimated $181.6 million a year by maintaining its ban on same-sex marriage.
Ben & Jerry's has been a consistent, supportive voice of the LGBT community — in 1989, it became "one of the first companies to offer same-sex domestic benefits for employees. The company also won a grant from PFLAG National and has supported the Employment Non-Discrimination Act since 2001. Ben & Jerry's have even made some of their shops available for same-sex wedding ceremonies, including one in Washington D.C.
The amicus brief merely solidifies Ben & Jerry's status as a true equal-opportunity employer. After all, if ice cream doesn't unite us, nothing will.