19 Brand New Songs Perfect for Your Workout Playlist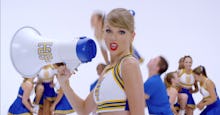 Research out of the Institut Universitaire de France has found that running with music is way better than running without. Runners with music expend less energy running the same distance as runners without music because they use the beat to synchronize their respiratory and locomotor cycles. Music can also help block out people's perceptions of their own fatigue, helping them run harder for longer. When paced out, the potential benefit is equivalent to taking 3 minutes off a marathon time. In short, your workout playlist is actually worth something. That's why you have to keep it in good order.
Good workout music is actually a special kind of music. High tempo music with a driving, syncopated beat actually stimulates the brain's motor cortex before you've even started running. And you need to like the music too — the positive associations listeners build up around their favorite pieces of music can be incredibly motivating because they reduces stress and fatigue.
But most of us make workout playlists and then never update them. That's too bad because there are always better workout songs being released — in the last few months especially. Here are 19 new songs that will make working out that much better.
1. "Never Say Never" by Basement Jaxx
Basement Jaxx's "Never Say Never" is up-tempo, house-y and highly twerkable. This is an unstoppable beat and a tense vocal performance. Try not moving to this song.
2. "Blockbuster Night, Part 1" by Run The Jewels
Killer Mike and El-P consistently rap over the most infectious, strange beats for their Run The Jewels project, but it's pretty much impossible not to move when you hear "Blockbuster Night, Part 1." It also helps that the two of them are ad-libbing "Run!" to hype their group's name throughout.
3. "Shake It Off" by Taylor Swift
Taylor Swift announced that her new album, 1989, would be her first foray into pop. To some, that was confusing — "22" was pretty pop-py. But "Shake It Off" is the kind of perfect pop song that makes most of the top 10 look like Indie Folk. This is irresistible. You could run to it for hours.
4. "Trainwreck 1979" by Death From Above 1979
Death From Above is the best in the biz when it comes to high-energy, danceable punk. "Trainwreck 1979" has a touch of melody and a touch of aggression — it's the perfect fuel for a long run.
5. "Headbanger" by King Tuff
DIY master King Tuff's latest garage rock banger, "Headbanger," is fiery, loose and raw.
6. "Ewi" by Moon Hooch
Moon Hooch got their start sparking impromptu dance parties in the NYC subways with their elastic funk grooves. If "Ewi" could get frustrated commuters moving, imagine what it can do for a willing runner.
7. "Never Catch Me" by Flying Lotus feat. Kendrick Lamar
An amazing, propulsive track from two of the biggest names in rap. Both Lamar and Flying Lotus have solo albums due by the end of the year. In the meantime, run to this — they'll never catch you.
8. "#CAKE" by Shabazz Palaces
If you want to enjoy that "#CAKE," you'll have to earn it by running like the terrified soul in this video.
9. "Puerto Rican Judo" by Ratking
The Brooklyn rappers never really explain "Puerto Rican Judo" in this song, but it isn't too difficult to guess. Whatever it is, it definitely takes some strength and a lot of energy.
10. "Backseat Freestyle" by Kendrick Lamar
While "Backseat Freestyle" is not exactly a "brand new" song, it did take on a brand new meaning recently when Taylor Swift admitted she knows every word to the song and uses it to "feel awesome." Use it wisely.
11. "Face Off" by AraabMuzik
AraabMuzik's stuttering dubstep has never failed to get a crowd absolutely bouncing off the walls at shows. Focus the erratic fervor from "Face Off" during a run and you'll be good for the long haul.
12. "Raca" by Milton Nascimento
It's not brand new, but it's completely unheard of by most. "Raca (Hasa) (Race)" is pure unrestrained joy captured in a few brilliant Brazilian falsettos and a clattering beat. It never fails to cheer and motivate when you need it most.
13. "Pearly Gates" by The Men
The Men's most recent release, "Pearly Gates," is classic, down-low rock and roll — the kind they used to play in roadside bars. The track has incredible drive to it.
14. "We On 1" by DJ Rashad
DJ Rashad will go down in history as one the most important contributors to popularizing the footwork genre — and "We On 1" is a classic example. The whole concept behind the music is to get dancers moving their feet as fast as physically possible. Lace up.
15. "Ghost" by Made In Heights
The frantic, stuttering percussion tracks on "Ghost" will keep the heart rate up, and the spacey, drawn out melodies will keep the mind focused and moving forward. It's brand new and it isn't even on Spotify yet, so you may have to download it.
16. "Smokin and Drinkin" by Danny Brown
Erratic and unpredictable, Danny Brown's furious barrage of syncopated percussion on "Smokin and Drinkin" will have runners headbanging down the block.
17. "Manipulator" by Ty Segall
Coast through the dreamy middle section of your run with Ty Segall's latest garage glam release.
18. "Down On My Luck" by Vic Mensa
Chicago rapper Vic Mensa takes a stab at house music on his recent "Down On My Luck." The result is a high-tempo, dance-y, but contemplative track.
19. "Where No Eagles Fly" by Julian Casablancas+The Voidz
The Strokes' lead singer Julian Casablancas' newest project has a lot more grime and dissonance in it than The Strokes ever had. This will push you harder — but even as you change it up, there'll always be room on the playlist for "Someday."