Jameis Winston Gets Game-Time Suspension Over Disgustingly Offensive Comments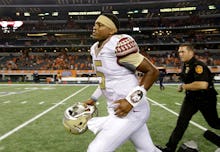 For almost the entire year, Florida State football coach Jimbo Fisher has been trying to convince the masses that his Heisman Trophy-winning quarterback, Jameis Winston, is a very mature guy, despite the controversies surrounding him.
But Winston has again given Fisher another reason to suspend him for one half on grounds of conduct when Florida State takes on Clemson Saturday.
On Tuesday, Winston used derogatory language in public as he stood on a table in the Florida State student union and yelled, "Fuck her right in the pussy," according to accounts of at least seven students who saw him and immediately tweeted about it. 
Five other accounts that Deadspin initially cited have been since deleted, and the other's tweets are now protected. The profane phrase that Winston used is part of a viral video cum meme, but as Deadspin puts it, there is so much negative public sentiment against Winston that the phrase will be now be dead "because Jameis Winston climbed onto a table and yelled it." Just last month, Florida State's ill-conceived plan of a live Q&A with the #AskJameis hashtag backfired dramatically.
Winston, the star quarterback of the No. 1-ranked defending national champions, has been involved in controversies in the last two semesters, most notably for being accused of rape in a poorly handled investigation. He remains under a Title IX investigation at Florida State. Then in April Winston shoplifted crab legs and was cited for a petty crime and suspended from the team until he completed community service. For just $32, Winston let down his coach and team in what he said was a "moment of youthful ignorance."
But this time, he can claim little of that. 
Yahoo Sports' Pat Forde spoke to a student, @KiefOsceola, who tweeted about the incident and had this to say: "I'm walking to class, and all of sudden I hear from behind me, '[Expletive] her right in the [expletive]!' I look around and it's Jameis. I'm like, 'Was that real?'"
But he told Forde he wanted to clear up any misconceptions and defend Winston. "It was just a joke. It was a place with no little kids or older people around. I don't even think there were any faculty around. It was just funny. Everyone was laughing. He was just joking around."
Winston, however, realizes it was no joke. "I messed up and I have to accept the fact I did that. It eats me alive I did something like that. I can't carry myself that way," he told media Wednesday after the suspension announcement.