These Two Brothers Gave Us the Best Feel-Good Football Story of the Year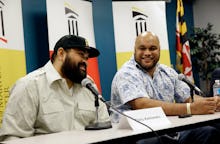 Feel-good stories in football have been few and far between of late, but former NFL linemen and brothers Ma'ake and Chris Kemoeatu have managed to fill the void. After being diagnosed with advanced kidney disease in 2013, Chris Kemoeatu, 31, is on the road to recovery thanks to his older brother Ma'ake, 35, who retired from the game to donate his kidney.
Chris had been suffering from kidney pain since eighth grade, though he would always tough it out. For years he endured the unrelenting pain on top of the brutal rigors of collegiate and pro football seasons. In 2011, after seven seasons as a pro and two Super Bowl titles with the Pittsburgh Steelers, the pain finally became too much to bear, and he retired.
Ma'ake played one more season, winning a Super Bowl with the Baltimore Ravens in his final season before retiring in 2012 to be with his ailing brother.
In early 2013, both their lives were altered forever. Chris met with Matthew Weir, a kidney specialist at the University of Maryland, who told him the pain he'd felt since middle school was kidney disease, which had advanced to the point where Chris needed a transplant.
Ma'ake never hesitated.
"I'm the oldest of seven kids so it was my responsibility to take care of my younger brothers and sisters," he said. "If my brother or any of my siblings needed blood, they have to have my blood. If any of my siblings needed a kidney, it would have to be my kidney."
Before the surgery could take place, the brothers needed to slim down from their 350-plus-pound playing weight, which meant the treadmill for Ma'ake, and dialysis for Chris — a task made even more daunting by his fear of needles.
After the successful weight loss, yet another bump in the road: Doctors discovered Chris had a heart complication, which required surgery before any transplant operation could occur. Following the operation this past June, the brothers had one last obstacle: their father, who wanted to take Ma'ake's place as the donor.
"My dad wanted to do it so bad," Ma'ake said. "I had to stop him."
With the successful Aug. 27 transplant behind them, the brothers are recovering and living down the street from the hospital, according to USA Today. Once they fully recover, the newspaper also reports, the brothers will move back to their native Hawaii.
And as for the kidney Chris received from Ma'ake, it's practically large enough to do the work for both. Stephen Bartlett, who performed the transplant, said, perhaps unsurprisingly, that Ma'ake's kidney was enormous.
"One-and-a-half times bigger than any other kidney I had ever seen in my life," Bartlett said. "It was absolutely remarkable."
A nice bonus that Chris had doubtlessly earned.
h/t USA Today