This Metal Band Is in 8th Grade — and They Absolutely Rocked the 'Colbert Report'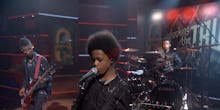 Back in July, three black eighth-graders out of Brooklyn made huge headlines by inking a $1.7 million deal with Sony Records for their metal band, Unlocking The Truth. The news was met with serious skepticism and frustration. But they silenced all doubts after their performance on The Colbert Report on Tuesday.
This week was Unlocking the Truth's television debut, and they were Colbert's youngest guests ever. By now, they're used to being the upstarts in a world of adults. The band got its start busking in Times Square, where it caught the ears of musicians and industry reps who helped the middle-schoolers record their first demo. Since that time, they've performed on the Vans Warped Tour, opened for Guns N' Roses and played Coachella. Through that hard work they secured their spot at Sony, and this week they proved to the public that they'd earned it.
The kids were endearing and honest, at times coming off very much as eighth-graders, such as when Colbert asked the kids to name their favorite subject at school, and 12-year-old drummer Jarad Dawkins answered, "Nothing."
At other times, though, they ably played the part of rock-star prophets.
"What is the truth you're unlocking?" Colbert asked, "Why'd you get that name?"
"We're unlocking the truth about life and that you could do whatever you wanna do," answered Malcolm Brickhouse, the band's 13-year-old lead guitarist and front man, "Kids think that they can't do anything 'cause that's what other people tell you to do, but if you look past that and just believe in yourself, you can accomplish anything you wanna do. So: Unlocking the Truth."
Keep an eye out for the group's debut EP, Free As You Wanna Be, coming soon.