11 Films That Already Have Oscar Buzz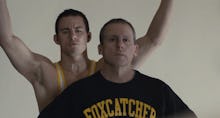 With the crisp fall air comes the promise of award-worthy movies as Hollywood shifts its focus from tent pole blockbusters to prestige pics and Oscar bait. For fans of well-written biopics, epic dramas and classic Hollywood dramedies these next few months are a treasure trove. 
Of the dozens of films released during this window of time, only a few will secure an Academy Award nomination. Here are 11 likely contenders to put on your must-watch list.
1. Foxcatcher
Channing Tatum and Steve Carrell leading a Best Picture nominee? If critics are right, that could very well be the case with Foxcatcher. The film, which premiered at Cannes International Film Festival to rave reviews, tells the true story of millionaire John du Pont's (Carrell) troubling relationship with two Olympic wrestlers (Tatum and Mark Ruffalo). All three actors are garnering serious buzz for their roles, especially Ruffalo, but it's the film as whole that has oddsmakers paying attention. The combination of true life drama, star power, incredible performances and Carrell's prosthetic nose should make this an easy contender for the top prize.
2. Boyhood
Awards it could be up for: Best Picture, Best Director, Best Actor, Best Actress, Best Everything
In a sea of adaptations, Richard Linklater's coming-of-age epic is a true original. Boyhood follows a boy from childhood to his first day of college. You likely already know what sets this film apart: It was filmed with the same cast over the course of 12 years. Linklater filmed scenes every year for over a decade to capture the struggles of growing up. The film acts as both a snapshot of a certain era and an ode to the child/parent relationship over the course of time. To say the film is ambitious is an understatement. It is the critics' darling, and there could be a heavy helping of nominations, including nods for Patricia Arquette and Ethan Hawke. 
3. Birdman
Awards it could be up for: Best Picture, Best Director, Best Actor
Alejandro González Iñárritu is well known for bleak dramas like Babel and Bitiful, but he may be a clutching an Oscar with a comedy. Birdman is a black-as-night comedy that follows an actor most well known for playing the titular superhero as he tries to make a career comeback on Broadway. The casting is genius — the Batman, Michael Keaton, stars as the aging superhero, along with Zach Galifianakis, Edward Norton and Amy Ryan. Birdman is already being hailed as "a triumph on every level." Awards-season voters love a career comeback almost as much as they love films about Hollywood, so with Keaton staging his own McConaissance this film is one to watch.
4. The Imitation Game
Awards it could be up for: Best Actor
Benedict Cumberbatch is on a bit of a roll – The Hobbit, Khan, Sherlock Holmes — but it's his turn as World War II code breaker Alan Turing that has people shouting Oscar. His performance as the tortured genius helped lead the film to the People's Choice win at the Toronto International Film Festival and will no doubt lead it to the Academy Awards. While the film has a good shot at Best Picture – and perhaps Keira Knightley in a well-received supporting role  – Cumberbatch is practically a lock for a best actor nomination. His performance has been universally lauded, and given his recent ascension to the Hollywood A-list, he could be the man to beat.
5. The Theory of Everything
Awards it could be up for: Best Actor 
Cumberbatch may be a lock for a nomination, but many people think it will be Eddie Redmayne clutching gold this February. The film features Redmayne as physicist Stephen Hawking through his relationship with his first wife, including his diagnosis with ALS. While the film has received some great reviews — Felicity Jones stuns as Jane Hawking, and James Marsh's directing is being praised — it's Redmayne who has jumped to the head of the pack in the Oscar race.
6. Wild
Awards it could be up for: Best Actress
Since her Oscar win in 2007, Reese Witherspoon seems to have fallen victim to the Best Actress curse. One look at her recent resume (Four Christmases, How Do You Know, This Means War) and it's clear she's fallen slowly since Walk the Line. That's all about to change with Wild. It stars Witherspoon as a recovering heroin addict who hikes the Pacific Crest Trail. Described by Digital Spy as a "a deliberately and delicately crafted movie star vehicle," the films puts Witherspoon back into a film worthy of her talents — and the Academy is sure to bite.
7. Maps to the Stars
Awards it could be up for: Best Actress
With four previous nominations, Julianne Moore is an Oscar veteran. David Cronenberg's scathing Hollywood satire could bring her a fifth nod as she plays aging star Havana Segrand attempting to remake the movie that made her mother famous. While the film hasn't received the most stellar reviews, Moore is being lauded for her no-holds-barred performance. With words like "vivd" and "daring" being thrown about, it's not hard to believe that Cronenberg may guide Moore to more than a nomination this year.
8. Still Alice
Awards it could be up for: Best Actress
If Maps to the Stars doesn't bring awards attention to Moore, Still Alice most certainly will. In more traditional Oscar fare, Moore portrays a linguistics professor dealing with a diagnosis of early onset Alzheimer's. It explores a woman as she copes with losing her faculties and the impact this has on her family. Relatively unknown at TIFF — with no distribution and best known for being another of Kristen Stewart's attempts to shake Twilight  (Stewart is also garnering raves as one of Moore's children) — Still Alice has quickly made it to the top of everyone's radar. One of the standouts of the festival, it could be Moore's winning ticket.
9. Unbroken
Awards it could be up for: Best Picture, Best Director, Best Actor 
The film hasn't premiered yet, but rumors are already swirling that Universal is hoping this will be their prestige piece. Their biggest hopes are pinned on the film's director, Angelina Jolie. Her directorial debut earned muted praise, but it's Unbroken, the true story of an Olympic athlete who became a World War II hero and POW, that has Hollywood buzzing — as is the prospect that Jolie could become just the fifth woman nominated in the director category. With Jolie as a serious contender in the best director race and considering the film was written by the Coen brothers, it would be a surprise if Unbroken was left out of this year's top category. 
10. Fury 
Awards it could be up for: Best Picture, Best Actor 
What is awards season without a larger-than-life World Ward II pic? This years' is being captained by none other than Brad Pitt. With David Ayer, of Training Day fame, directing, expect some heavy violence. While the film still hasn't been reviewed, the timing, the cast and the look all scream Oscar nominations. We'll see if the odds are in their favor. 
11. Inherent Vice 
Awards it could be up for: Best Picture, Best Director
If we're speaking of expected-to-be-excellent films that no one has seen yet, Inherent Vice is tops. Written and directed by Paul Thomas Anderson, based on a novel by Thomas Pynchon and starring Joaquin Phoenix, Reese Witherspoon, Jena Malone, Josh Brolin, Benicio Del Toro and Owen Wilson — bring on the gold.